AOL CEO Tim Armstrong Refutes Rumors Of Yahoo Acquiring The Company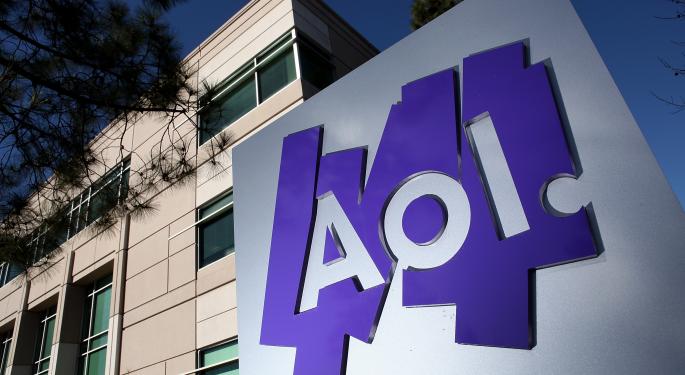 There has been buzz on the Street regarding AOL, Inc. (NYSE: AOL) getting acquired by Yahoo! Inc. (NASDAQ: YHOO). However, AOL Chairman and CEO Tim Armstrong refuted those rumors implicitly Wednesday on CNBC and also discussed the future of digital advertising.
"The bottom line is in, we have been really crystal clear about this is, we believe there is going to be 10 to 15 major chairs in our industry that people want to sit in," Armstrong said. "There has been 200 ad tech companies trying to get in those chairs. We have gone to the forefront. I would say Google and AOL and maybe Facebook have the most complete ad systems at this point and the reality is we are in a very very strong place right now."
Armstrong continued, "We have excellent products, excellent talent and excellent ability to work inside the advertising and media business and you combine that strategy with things like Huffington Post and TechCrunch and Engadget and MapQuest and those type of brands and AOL has a very, I believe, a killer strategy for the future."
Is There Going To Be Room For Multiple Companies?
"There will be multiple companies. There is 200 ad tech companies, there is also probably 50 to 70 major traditional media companies that need to get into digital also. Internally, I'll say there is 10 to 15 future chairs that people are going to sit in, there's probably 200 to 250 companies trying to get into those chairs and there's talent for probably 30," Armstrong replied.
On merger talks with Yahoo, Armstrong said, "I don't know why there is a lot of rumors floating around about our company all the time, but if you go back to the results, we have been very very specific about what we are doing and we are going to keep doing that."
View Comments and Join the Discussion!
Posted-In: CNBC Tim ArmstrongTech Media Best of Benzinga