This Detroit Startup Could Change The Pasta Industry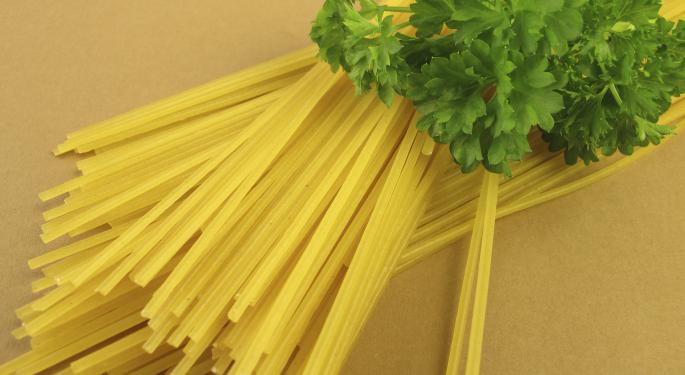 Like many millennials, Brian Rudolph cares about nutrition.
He loves pasta, but he's also gluten-free. And the gluten-free pastas that are already on the market have little nutritional value, Rudolph said.
"There wasn't a single pasta I could eat, and I like pasta," he told Benzinga.
Out of frustration (and his Iove of pasta), he started making his own. At the time, Rudolph had been experimenting with all sorts of different foods made from chickpeas in his own kitchen.
"For the record, I already had a chickpea addiction before," Rudolph said.
But what started as a hobby soon became Rudolph's main enterprise.
He's a fellow at Venture for America, a program that places college graduates in startups across the country -- with the goal of providing them with skills and knowledge to start their own companies.
Related: 5 Things Every Detroit Entrepreneur Should Know
He joined VFA with the idea of starting a technology company, but when his friends and family kept asking about his pasta, he realized that there might be a future in it.
"At some point, I decided that there was actually business potential to it," Rudolph said. "That's when I started taking it a lot more seriously."
Nutritionally Sound, Environmentally Beneficial
Rudolph is the founder of Banza -- pasta made from chickpeas. The name is short for garbanzo, another term for chickpea.
Banza has 13 grams of protein and seven grams of fiber per serving, which is "leaps and bounds" better than regular pasta, Rudolph said.
In addition, chickpeas are much more sustainable than rice, wheat or corn, he said. When chickpeas are grown, they actually add nitrogen back into the soil, making it more fertile.
"If you use it as a rotation crop, you're actually improving the soil and it is overall a net positive impact," Rudolph said.
Banza is following in the footsteps of other health food producers like Chobani Greek Yogurt and Silk Almond Milk, who introduced a healthier alternative to a popular food and shook up the industry.
Testing out new shapes in style #eataly pic.twitter.com/wSrNBMU6WU

— Banza (@EatBanza) May 9, 2014
But Banza wasn't created just to make a profit. True, millennials with buying power are seeking out fresher and healthier food, so there's definitely market demand for nutritional foods. But Rudolph has a more meaningful mission.
He used to have what he referred to as a "crap diet," and many health issues with sinus infections. Once he started focusing on the things he ate, Rudolph said it made an enormous difference in his overall health.
"Changing my diet has had such a big impact on my life that I would love to have the opportunity to help people experience the same thing," he said. "And replacing their pasta with a pasta from chickpeas is a start."
Brothers In Business
The next step was to convince his brother, Scott Rudolph, to join him. Rudolph's brother is eight years older, married and was working in private equity in New York.
"It (joining Banza) probably wasn't the most obvious thing for him to be doing," Rudolph said. "I think he believed in it as much as I did from a business perspective."
Having his brother on the team creates a good sense of balance. Scott focuses on the numbers and business side because of his background in equity, which allows Brian to focus on the brand identity and higher-level vision of the company.
Fast-Track To Success
Rudolph and his brother were able to start Banza after a crowdfunding campaign on RocketHub, where Banza raised $28,000 -- almost triple the amount of their $10,000 goal.
"That kind of validated the product and showed that people really wanted it," Rudolph said.
Less than a week after the crowdfunding campaign was finished, Rudolph got a call from CNBC to be on a new reality show called "Restaurant Startup," which will air later this summer.
Banza is also finalizing a deal with the one-stop-shopping chain Meijer, to carry the product in all of their stores early this fall.
"Meijer was very receptive to the product," Rudolph said. "They obviously saw the potential."
Related: How One Entrepreneur Reuses Detroit's Devastated Homes
Rudolph said he would definitely consider moving into other produces. That's part of the goal -- to replace everything made from wheat, rice or corn with chickpeas.
"Whether it's crackers, cereal or pizza crust. Literally, anything made from wheat, rice or corn," Rudolph said. "Except maybe bread. I don't see us doing bread."
Posted-In: Banza PastaEntrepreneurship Restaurants Startups Small Business Media Interview General Best of Benzinga
View Comments and Join the Discussion!