Real Estate And The Economy With Barry Sternlicht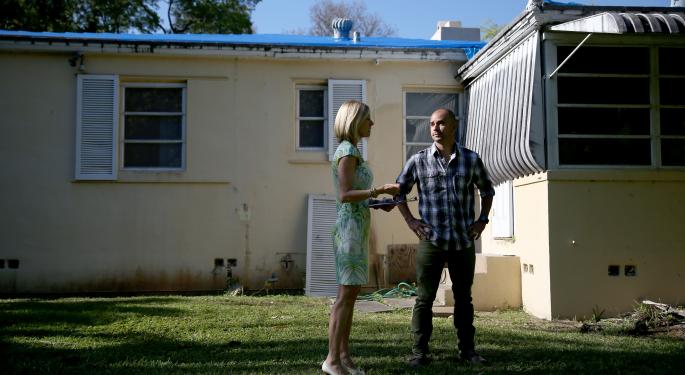 Recently, Starwood Capital Group (NYSE: STWD) chairman and CEO Barry Sternlicht appeared on Bloomberg Television with Erik Schatzker and Stephanie Ruhle at the Milken Institute Conference in Los Angeles, California for a Market Makers segment, where he talked -- among other things -- about real-estate markets and investor discipline.
Lately, many analysts think 2016 may feel like 2008 all over again.
"Well, I like this tree-shaking." said Sternlicht. "I kind of like the market sort of reeling and dropping 100 points. I like keeping fear in the market. I like keeping people paying attention. Because it's good for discipline. It keeps them disciplined. They remember the fear factor."
He said a problem today in real estate is history. Sternlicht highlighted that "investment cycles have big humpy humps like camels."
"The property markets and all investment classes are driven by the debt markets," he added, "and the debt markets are the first place you probably lose your discipline. And I was just reading a report from Moody's on the CMBS world and how loan to values are creeping up and subordination levels are going down. And you're not anywhere near the panic or the mess you had with completely free credit in '06, early '07. But you're certainly coming out of that."
Related: Euro Steady Ahead Of Inflation Data
All in all, he thinks property is in a good place.
"I think property's fine," he said. "And I think the question is are we spoiled by trying to achieve 15 to 20 percent returns in a world (where) the 10-year's 2.7. So maybe they're right. Maybe we should be aiming for 10s and that's fantastic with high yields are 5.5 percent yields, 10 percent returns. But we've traditionally sought higher returns, particularly in – it depends what market you're in, but some markets – they're all built differently. Obviously investing in small places is different than investing in London and New York."
Many don't see every market as fair game, however, and investors like Sternlicht take a significant amount of heat for being active in the single-family home market, particularly.
"It's a good thing we take heat because it kept everyone from doing it," he said. "And we waded our toes in. I thought it was a one-way trade. I didn't think we'd have any risk on the home values, especially where we bought. We focused on Florida and Texas and California. We stayed out of some of these wild markets like Phoenix and Vegas, where now you're seeing property prices go down because the investors got so aggressive buying those markets beyond their natural price point."
"But I think people couldn't – didn't think you could actually manage this business in scale," Sternlicht continued, "and I think that's where investor skepticism came up, because they really believed that this was a business that didn't need to be rolled up. It's a big business. There's more single-family homes rented in the United States than there are apartments in the United States. But it's been a mom and dad business. So our job will be to prove that it can be done efficiently in scale. And one thing that's better than apartments -- the margins are about the game, 65 percent gross margins, appear to be where we are and where single and multi-family is. But the length of a lease is longer, so we get two years typically –- a year or two years from a family. Apartments turn over much faster. So capital costs are higher...but adjusting for turnover, they are not. We're finding things to do, but it's gotten harder. You have to pick your markets, and certain markets you're shut out of. You can't make the metrics work right now. They've run too far too fast. "
As for the general state of the economy, Sternlicht sees the world being in "this odd inflection point."
"Was it a winter-induced lull," he said, "and then we're going to roar forward and the stock market will be fine or are we really in a period of long slow growth and don't worry about interest rates, don't worry about inflation? I think the long, slow growth actually I think propelled by waves of capital."
He joked that the "money sloshing around again" remind him of 2006.
"A lot of money everywhere,: he noted. "There's a lot of money chasing property in Europe today, in the U.S. too. We have a lot of clients who want to buy core real estate in the United States and I think they're kind of throwing in the towel on caution. I think they basically decided that everything's better than bonds everywhere, and so property's a good place to move some money."
"And I think you're seeing it in the stock market too. You're seeing a lot of propped-up valuations because there's just no place to put money."
Jason Cunningham had no position with the mentioned entities while writing this article.
Posted-In: Barry SternlichtCNBC News Guidance Events Hot Movers Media Best of Benzinga
View Comments and Join the Discussion!