Bill Ackman Talks Partnership With Valeant For Allergan Deal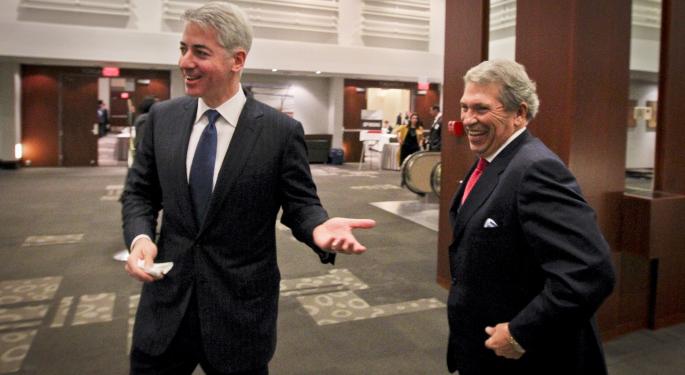 The stakeholders in the upcoming deal for Allergan (NYSE: AGN) see a perfect fit.
"When you understand their operating philosophy and their approach to capital allocation discipline, cost discipline, the way they compensate their team, in fit into the Pershing mold of an investment, and that's what got us interested in Valeant (NYSE: VRX)," said Hedge fund manager and CEO of hedge fund Pershing Square Capital Management Bill Ackman regarding the pairing of the two companies.
Ackman discussed his decision to acquire Allergan in partnership with Valeant Pharmaceuticals on CNBC's Squawk Box Wednesday morning.
"Mike gave a list of companies to us and asked for our opinion on who we thought was the most interesting targets…just curious. And we looked at the list — it was very clear that Allergan was a perfect fit for the company; cause not only are there a lot of cost benefits, but I think more significantly, there are strategic overlap in the business," said Ackman.
Ackman met Chairman and CEO of Valeant Pharmaceuticals J. Michael Pearson through a business-school classmate. Ackman expressed an appreciation for Valeant's business model and described it as similar to the other companies they invest in. He joked that it's more comparable to Procter & Gamble (NYSE: PG) in their eyes than to a company like Merck (NYSE: MRK).
Related: Drug ETFs Surge On M&A Activity
"I've admired what these guys have accomplished over six years, but never really took a hard look at the company, because I have not invested in healthcare before. And the reason why is healthcare is generally a business — most pharmaceutical companies are very difficult to understand. They're black-box, you know they rely on these pipelines where they spend enormous amounts of money; and you wake up one day and then one of the drugs doesn't get approved — the stock collapses," said Ackman.
It was mentioned by Squawk Box host Becky Quick that they might end up owning Allergan instead of Valiant if the deal doesn't get done.
"The reason why Mike is willing to share with us the opportunity for Allergan is for us to help him buy Allergan. He doesn't really need our help buying stock in Valiant. What he needs is our help in getting this transaction done," said Ackman.
Jason Cunningham had no position with the mentioned entities while writing this article. Visit Jason on Twitter at @JasonCunningham and @Benzinga.
Posted-In: Bill Ackman CNBC CNBCNews Events Hot Movers Media Best of Benzinga
View Comments and Join the Discussion!