Kevyn Orr Discusses Tackling Detroit's Debt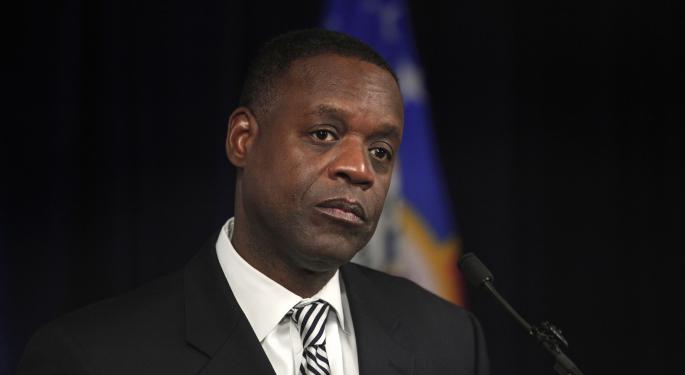 Detroit's emergency manager Kevyn Orr went over a deal to clear away some of its debt with its creditors, including reducing payments by over 24 percent, on CNBC's Squawk on the Street Wednesday.
"We've been saying for some time that we're trying to reach deals with our creditors, specifically the unsecured. So on this one, the UTGO, Unlimited Tax General Obligation bonds, it frees up about $100 million for pensions and that's pretty good," said Orr.
The deal still has to be approved by the bankruptcy court. Orr is hopeful that it will be.
"This helps us get forward. Another component of the deal in bankruptcy is plan support, that they'll vote for our plan, so that's a good thing," said Orr.
Unsecured creditors will end up taking cuts in the deals, however, and Detroit is aiming for an October deadline with an $18 billion bankruptcy.
Related: Pro Athlete Lee Sandford Becomes Pro Trader After Kicking Football In 'Goals to Gold'
"This class of creditors were supported by millage, a specific, dedicated revenue stream, of about $388 million. We've agreed with them, and we couldn't get it otherwise without their agreement, we've agreed with them that they'll give us about 24 percent of that millage and they'll keep 76 percent, freeing up $100 million for our pensioners," said Orr.
Running the city of Detroit is a long-term commitment with a long-term plan.
"Called Detroit Future Cities and the new mayor, Mayor Duggan, and I have a power-sharing agreement more or less where he works to get the city running on time," said Orr.
"We've got lights up; we're paying our bills on time; we're not bouncing paychecks; we're bringing down blight — we have a blight plan; infrastructure improvement in place; we're buying new police cars and new fire trucks. I mean, the city itself, especially the central core downtown, is thriving. The other 130 miles of city — we're huge, we're the size of Boston, New York, and San Francisco all together. The city is itself going to take a period of time, but we're getting at it right now."
As Orr and Detroit push forward, their progress alone serves as an accomplishment, and if the deals all work out, the long-term plan just might work.
"It's beginning of the third quarter now; and with this settlement, and hopefully the settlement that we have in front of the court this Friday, the swap settlement, we will now have a sufficient number of supporters to really push our plan forward. So we're very, very optimistic," said Orr.
Jason Cunningham had no position with the mentioned entities while writing this article. Visit Jason on Twitter at @JasonCunningham and @Benzinga.
Posted-In: CNBC CNBC CNBC's Squawk on the StreetNews Events Econ #s Economics Media Best of Benzinga
View Comments and Join the Discussion!