Craig Barrett Wants Stricter U.S. K-12 Education Standards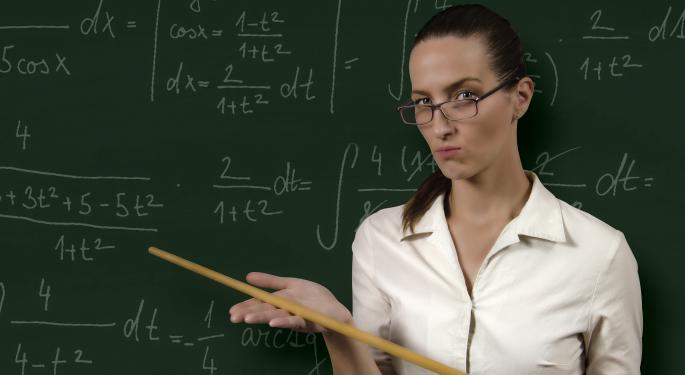 Craig Barrett, former Intel (NASDAQ: INTC) chairman and CEO, went over education reform on CNBC's Squawk Box Tuesday morning with a specific emphasis on raising the current standards in order for the United States to remain internationally competitive.
He also discussed Facebook's (NASDAQ: FB) acquisition of WhatsApp.
"I look at the results of our kids today, average american kid ranks pretty low compared to the OECD counterparts around the world in math, science, problem solving. We need to raise our expectations of what our kids know when they graduate from high school so that they can go forward and be productive members of society, go on to college, pursue a professional career," said Barrett.
"Our expectations today are just too low."
Many opponents to tested standards say that educators are prone to teach the tests and test-taking methods in order to pass, opposed to developing intellectually well-rounded leaners.
"I'm a CEO of a charter school organization here in Arizona. We've got two of the top five high schools in the United States. Our teachers teach subject matter. They don't teach to the tests. The kids can pass any test," said Barrett.
"We need to get to that point where you can teach kids to think; to understand the basics so they can solve problems. That's the issue. "
He cited international tests like those by the Programme for International Student Assessment as proof to whether or not kids can solve problems through a tougher method. Barrett noted some learning methods, such as homework, as essential.
"Education is tough work on both sides — tough for the teachers and administrators, tough for the kids, but if you want to compete in the 21 21st century, you have to do it," said Barrett.
Related: Marcus Lemonis Talks 'The Profit' And Tesla
Barrett, like many, think kids need an education system that allows them to complete against other students in every nation around the world.
"The common core standards were created by 45 states. the governors, the chief state school, operating officers ratified by the school— or the state boards of education. the local school districts still have control over curriculum, but now there's a set of expectations for the kids in english, math, soon to be science. that set of expectations raises a standard. it's going to make it tougher, but we have to do a better job educating our kids if we want to compete," said Barrett.
From education, Barrett moved onto Facebook, the social media that most teachers probably don't want to see students using during class.
He thinks Facebook purchase of WhatsApp was a good acquisition on their part. He listed four reason for why it was a smart decision, saying that they're not wasting money since it's mostly a stock deal; they were in need of a communications play and WhatsApp will be entering the voice space along to compete with Skype and Microsoft (NASDAQ: MSFT); they need numbers, especially when it comes to youth retention, and WhatsApp has 450 million users with a million currently added each day; and finally he applauded chairman and CEO Mark Zuckerberg for taking the initiative to look ahead, because staying diverse keeps them ahead of them game, and this was a gamble that paid off.
 Jason Cunningham had no position with the mentioned entities while writing this article. Visit Jason on Twitter at @JasonCunningham and @Benzinga.
Posted-In: CCSS CNBC CNBC CNBC's Squawk BoxEducation Politics Media General Best of Benzinga
View Comments and Join the Discussion!