Rep. Paul Ryan Reacts To President Obama's State Of The Union Address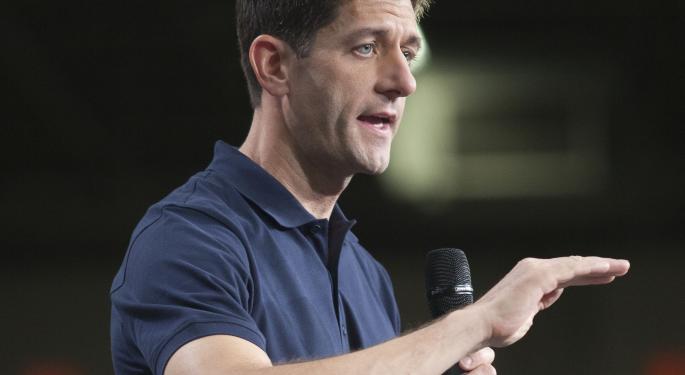 Rep. Paul Ryan, chairman of the House Budget Committee, was full of slick marketing lingo when he responded to President Obama's State of the Union address on the Republican party's behalf on CNBC's Squawk Box Wednesday morning.
Ryan started the dish with a few dashes of insulting comments, saying that President Obama's speech was "small ball" and lacking in new ideas; offering the backhanded compliment that the speech was "less adversarial" than his past State of the Union addresses.
"We're going to offer a bunch of ideas. We're going to be pushing reforms. We're going to show how you create jobs; create upward mobility; fight poverty; get great growth up. So tax reform; job training reform; trade; energy policy…We're going to be offering a constructive agenda that actually gets people back to work that deals with upward mobility," said Ryan as if at a GOP pep rally.
"That's how you fight inequality. You get people to be able to access opportunity."
He stated that within "vibrant debate" in the Republican party "idea after idea" is offered. Ryan noted that they're looking to be more than the "opposition party" and are looking to be the "alternative party," and then presented them as the "proposition party" before suggesting that a lot of "good ideas" are on the way.
Related: Brent Recoups Some Losses, But Could Be In For Another Slide
He's confident that President Obama "won't go very far" when he attempts to bypass the legislative branch. He also claimed that the "climate change agenda" has only frustrated the natural gas industry responsible for hydraulic fracturing, or fracking, despite Obama supporting its future during his speech.
Ryan offered no explanation of the regulatory issues surrounding fracking, and said nothing about environmental preservation, as it did not pertain to his agenda. He continued by preaching against President Obama's stricter energy regulation policy, citing Obama's higher expectations of the coal industry.
Ryan also highlighted that raising the minimum wage is bad economics and called the idea and ideas like it "papering over the fact that we have a bad economy because we've been practicing bad economic policies." He repeated that the Republican party is one of ideas that "offers solutions" a couple of times before making the suggestive comment that they don't have the "best person whose got the best rhetoric" in their corner.
While he strongly amplified his party's problem solving ability, he also didn't present any real-world solutions behind the "ideas" that he presented in his rhetoric-rich statement.
"I'm keeping my options open," said Ryan regarding the 2016 presidential race.
Jason Cunningham had no position with the mentioned entities while writing this article. Visit Jason on Twitter at @JasonCunningham and @Benzinga.
View Comments and Join the Discussion!
Posted-In: CNBC CNBCNews Politics Events Economics Media General Best of Benzinga