Bill Nye Highlights Polar Vortex Freezing Dangers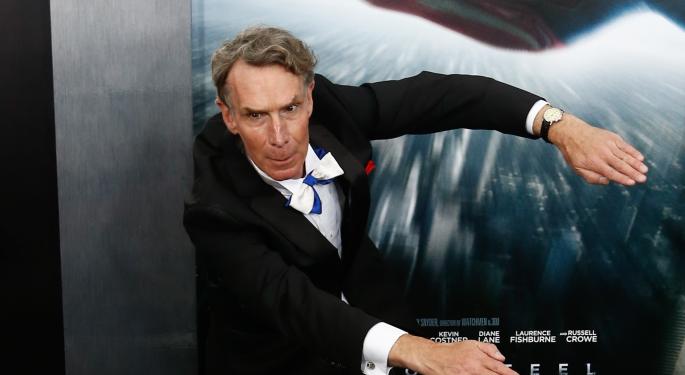 Executive Director of The Planetary Society and beloved science guy Bye Nye appeared on CNBC's Squawk on the Street Tuesday to explain the physical and economic dangers associated with the extreme cold that's hit parts of the country from the polar vortex (not to be confused with the polar vortices) this month.
"It's very difficult for a human to be out there exposed as the saying goes, but for me the engineer, a member of a technologically advanced society, it means we're going to be using a lot of electricity to keep warm, to move around, to thaw things out and I don't know that our electrical power grid is up to it right now," said Nye.
"We're going to have to enhance it in the future."
He noted that even jet fuel is becoming slushy, which is very unusual, and that when transportation is slowed down, so is the economy. Nye is concerned about the possibility events like the polar vortex to become regular occurrences.
Related: Cold Temperatures Not Likely To Have Macro-Economic Effects
"We're not really set up for it, and we're in the developed world. We are in a place where we have all of this infrastructure and means for most people, most people, to keep warm," said Nye.
After highlighting severe temperature influxes across the United States, Nye pointed out one upside to the sudden decrease in temperature is that it could kill some of the insects attacking the country's forests. He also included that our agricultural systems aren't prepared for severe weather influxes, which would also have a huge economical impact if issues with crops started to occur.
Jason Cunningham had no position with the mentioned entities while writing this article. Visit Jason on Twitter at @JasonCunningham and @Benzinga.
Posted-In: Bill Nye CNBC CNBC's Squawk on the Street Polar VortexCNBC Travel Media General Best of Benzinga
View Comments and Join the Discussion!