Sebastian Thrun Disrupts Higher Education With Udacity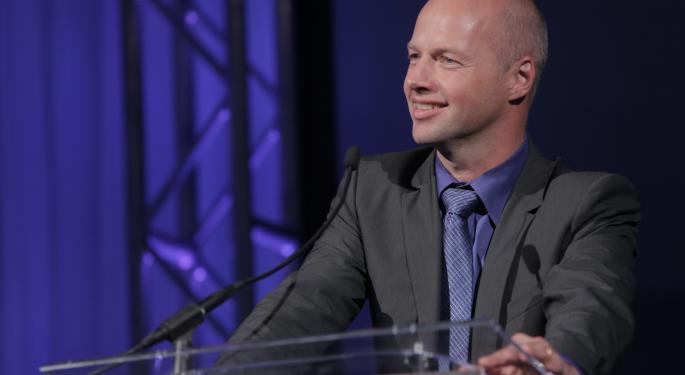 Sebastian Thrun, Udacity co-founder and Google VP and Fellow, co-developer of Google Street View and the infamous self-driving car, recently gave up his role as a tenured Stamford professor in order to integrate online education into standard practice.
He talked about the experience and new venture recently on CNBC's Squawk Box.
It started in 2011 when Thrun put one of his courses, Introduction to Artificial Intelligence, online. He sent out a single email calling out to interested students. The course was free, and the offer was met with a large response. They had enrollment expectations of around 500 students, and we were instead greeted with 160,000 students eager to learn online.
"It told me there's a huge demand. There's a huge need and thirst and hunger for learning new things," said Thrun, noting that AI as a very specialized subject matter, yet his class generated a wide interested.
Udacity offers a place for online learning that encompasses technological literacy and computer science, including big data and web and mobile coding among its courses. Some classes and content are free while other arrives, such as mentorship and and examination, are paid.
Udacity acts as a disruptor to higher education for a variety of reasons, including cost efficiency, which could make expensive investments like a master's degree roughly a seventh of the total price down the road.They can also expand access to education to low-income and poverty-stricken areas.
Thrun's said that the main purpose of Udacity is to fill the nationwide gap in skilled technology workers that are needed to handle the high-tech jobs of today and tomorrow.
Related: Central City, Colorado Gets Ready To Go Green New Year's Day
"We work with leading combines like Google (NASDAQ: GOOG), Pandora (NYSE: P), and Facebook (NASDAQ: FB) to put their materials online. We get form them the most up-to-date, most cutting edge stuff that you need to know be successful in [a] career in tech, and you can now learn this stuff," said Thrun, citing their big data class offered by Facebook that's also taught internally to their own engineers as a prime example.
So far, very few students come to Udacity while in college or right after graduation, Thrun said. Most Udacity students are young professionals keeping up with the changing standards of their fields.
The site has actually formed an alliance with several top tech companies, including Cloudera, Google, and AT&T (NYSE: T) among many others, that accept any certificate of completion issued by Udacity as added value to a potential employee's resume. The alliance acts as a direct acknowledgment of the confidence top employers have in skillets gained from Udacity's courses.
Jason Cunningham had no position with the mentioned entities while writing this article. Visit Jason on Twitter at @JasonCunningham and @Benzinga.
Posted-In: CNBC CNBC's Squawk Box Google GlassCNBC Education Tech Media General Best of Benzinga
View Comments and Join the Discussion!