Richard Branson Has Virgin Galactic Accepting Bitcoins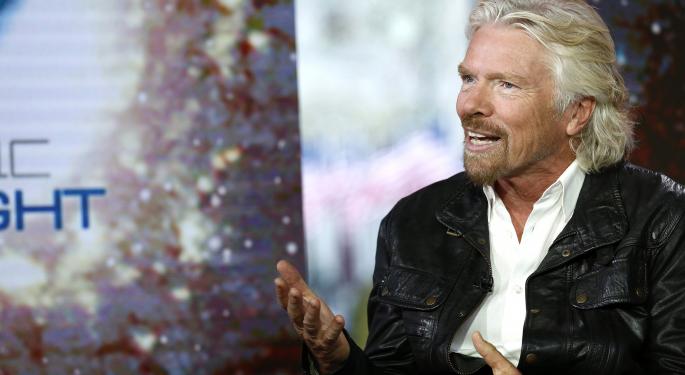 Virgin Galactic sold its first ticket purchased with bitcoins Friday, marking another success for the Internet currency as its value continues to fluctuate.
Richard Branson video-phoned CNBC's Squawk Box Friday morning to discuss his decision to accept the digital currency. He offered host Andrew Ross Sorkin a bit of a saucy reply when asked "Why accept bitcoins?"
"Well, why not? It's a currency…a new, exciting currency," said Branson.
Many have compared an investment in bitcoin to buying gold, in which the investor is betting against the success of the dollar.
"There [are] a lot of people who got into bitcoin quite early on who've made quite a lot of money," said Branson.
The bitcoins that Virgin Galactic received today came from a stewardess in Hawaii who "made quite a lot of money by getting into bitcoin early on," he said. That money was transferred into dollars just in case she needs a refund equal to the value she paid, avoiding the issue of bitcoin's volatility altogether. This means very little risk for companies who accept bitcoin, said Branson, including that he hopes that any upcoming legislation to regulate bitcoins doesn't hurt the technology's progress.
Branson noted that if Virgin Galactic didn't offer refunds to those who get pre-spaceflight jitters, then they wouldn't transfer the bitcoins into dollars. He believes that after they balance out in value, they'll be worth more than today's buy-in price due to the cap in how many will be produced in the mining process, which offers additional security to the risk.
Related: Philip Morris To Enter The Electronic Cigarette Business
In regards to the overall value of bitcoins, as Branson was an early investor, he laughed while saying that "the people who've bought last week have done well," after reiterating that early investors did great.
When asked how many bitcoins it took to reserve a flight into space, Branson joked that as their value seems to be currently rapidly increasing, the $250,000 ticket price is "not many bitcoins to go to space," when converted.
Jason Cunningham had no position with the mentioned entities while writing this article. Visit Jason on Twitter at @JasonCunningham and @Benzinga.
View Comments and Join the Discussion!
Posted-In: News Travel Events Hot Movers Tech Media General Best of Benzinga