Standpoint's Ronnie Moas Wants You To Buy Cisco Systems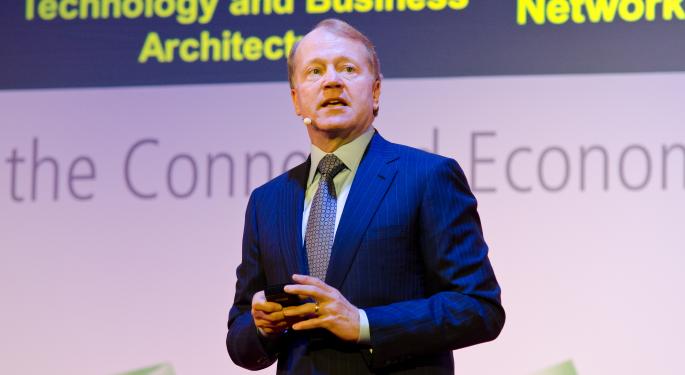 Ronnie Moas, the founder and director of research at Standpoint Research, appeared on CNBC's Fast Money Thursday night, where he strongly advised investors to purchase Cisco Systems (NASDAQ: CSCO), saying that those who didn't do it Thursday made a big mistake.
"Cisco came up as being overbought when it broke below $21 [Thursday] morning. So I went down a few minutes after the market opened, and advised my clients to go back into it, when everybody else was getting out," said Moas in regards to his computer system for calculating stock value within market context.
According to Moas, the stock is currently trading at eight times earnings after deducting their cash.
Related: Market Wrap For November 14: We Have A New Fed Chair!
"You look at Procter & Gamble (NYSE: PG) for example, it's trading at 20 times earnings. If you don't like Cisco at $21, you probably don't want to be in the market altogether," said Moas.
"Ah, this is the time you want to buy Cisco. If you look back in its history [over] the last few years, whenever they came out with bad news and the stock got beaten down the way that it did today, if you would have gone in and bought it at the time, you would have made 30 to 40 percent within 12 to 18 months."
The stock traded 250 million shares today, and Moas believes the smart ones were those who were buying.
"I stepped into Oracle in June. The same thing happened to Oracle (NYSE: ORCL), it got crushed, it broke below $30, and the same day…I went out and told people to jump on Oracle because I saw the same thing happen that I'm seeing today with Cisco when it broke below $21 this morning," said Moas.
Jason Cunningham had no position with the mentioned entities while writing this article. Visit Jason on Twitter at @JasonCunningham and @Benzinga.
Posted-In: CNBC Financial Advisors Futures Hot After-Hours Center Markets Tech Media Best of Benzinga
View Comments and Join the Discussion!