Market Wrap For November 14: We Have A New Fed Chair!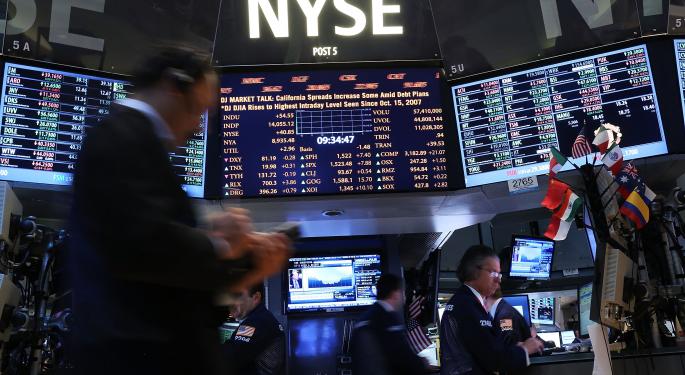 After much anticipation, Janet Yellen was officially nominated as Federal Reserve Chairperson this morning. Yellen offered no surprises during her testimony, which was prepared in advance and made public last night. U.S. markets, as expected, edged slightly higher to continue the rally that was started yesterday afternoon.
Yellen spoke of the dangers in ending accommodation too early and that unemployment remains high, a "virtually unprecedented situation." The full speech can be viewed on the Federal Reserve's website.
The Dow Jones gained 0.35 percent, closing at 15,876.35.
The S&P 500 gained 0.48 percent, closing at 1,790.61.
The Nasdaq gained 0.18 percent, closing at 3,972.74.
Gold gained 1.41 percent, trading at $1,286.30 an ounce.
Oil declined .03 percent, trading at $93.85 a barrel.
Silver gained 1.6 percent, trading at $20.77 an ounce.
News of Note
Prior to Yellen's confirmation, several key economic data points were released. The U.S. Trade Balance deficit widened in September as imports rose to the highest levels in almost a year and exports fell for a third consecutive month. The trade gap increased to $41.8 billion, compared to an estimated $39.0 billion shortfall.
U.S. Initial Jobless Claims for November fell 2,000 to a seasonally adjusted 339,000 compared to an estimated 330,000.
U.S. Nonfarm Productivity rose 1.9 percent in the third quarter, short of the 2.2 percent forecasted.
The Bloomberg Consumer Comfort Index rose four points to -33.9 last week.
Charles Plosser, President of the Philadelphia Fed said that the Federal Reserve should have a single mandate of fighting inflation rather than its current dual focus on stable prices and jobs. Doing so would improve the working of monetary policy. Ploser's opposition to the Fed's current round of asset purchases is well known by investors. Ploser is set to become a voting FOMC member next year.
Ben Bernanke reiterated his position that banks need to hold more capital and liquid assets to survive a market shock.
Economic data out of Europe showed the eurozone grew 0.1 percent in the third quarter. Germany's growth slowed down in the quarter, while France contracted.
Related: Eurozone Economy Grew in Q3
Equities-Specific News of Note
Shares of SolarCity received a premarket upgrade from analysts at Baird who described Elon Musk's other "baby" as "one of the most innovative public solar financing companies" and slapped on a $71 price target. Musk is a chairman of the company whose his cousin, Lyndon Rive is the CEO. Shares closed the day up 4.3 percent after trading higher by 8 percent in the morning.
On the subject of Musk, shares of Tesla (NASDAQ: TSLA) closed the day down by 0.79 percent at $137.60 as it was revealed an industrial accident that occurred yesterday will not disrupt production in its factory. The accident involved a spill of hot metal, and not a fire according to previous reports yesterday.
Related: Tesla Assembly Plant Accident Caused By Hot Metal
Yesterday, analysts at JPMorgan (NYSE: JPM) initiated Lululemon (NASDAQ: LULU) with an Overweight rating and $84 target. This morning, analysts at Sterne Agee issued an opposing bearish view on the company. The analysts downgraded the clothing company to Underperform from Neutral and a price target of $56. Shares of Lululemon closed the day lower by 4.06 percent at $66.18.
General Motors (NYSE: GM) CEO Dan Akerson could retire next year. Shares were widely unaffected closing up 0.16 percent at $38.50.
Morgan Stanley (NYSE: MS) upgraded Sony (NYSE: SNE) to Overweight ahead of the Playstation 4 launch tomorrow. Shares of Sony have gained in recent days as several reports indicate the PlayStation 4 will win the battle against Microsoft's (NASDAQ: MSFT) upcoming Xbox One. Shares of Sony closed the day up 3.9 percent at $18.64.
News of a pipeline explosion in North Texas surfaced late this morning. Initial reports suspected the pipeline was owned by Kinder Morgan Partners (NYSE: KMP) but was later confirmed to be a Chevron (NYSE: CVX) pipeline. Officials reported no injuries and all workers accounted for. Shares of both oil companies were unaffected by the news.
The Wall Street Journal reported that global investment banks could be on the hook for almost $100 billion over the next decade in settlement and other related fees. JPMorgan (NYSE: JPM) is expected to announce a $13 billion settlement with the Justice Department and other regulators "should start 2014 with a cleaner slate than most peers" according to analysts at KBW.
A report by Gartner (NYSE: IT) concluded that Samsung is the clear winner in the smartphone market over Apple (NASDAQ: AAPL) in terms of units sold and penetration of Android versus iOS.
Related: Worldwide Mobile Phone Sales Up Over 455 Million Units
Winners of Note
Shares of Novogen (NASDAQ: NVGN) appreciated by 12.38 percent closing at $5.72. Premarket the company announced an important discovery in its drug that fights against genetic and degenerative disorders.
Shares of CafePress Inc. (NASDAQ: PRSS) gained 7.99 percent closing at $6.08 for the day following news reports of possible deals with Amazon.com and Wal-Mart. The source of the reports has been attributed to Jefferies.
Decliners of Note
Cisco (NASDAQ: CSCO) felt the wrath of shareholders after its disappointing results after the close yesterday. Jim Cramer categorized the company's earnings as being among the worst quarter for any Dow company all year. Shares closed the day down 11.02 percent at $21.35. Several of Cisco's peers also sold off as investors felt the company's poor guidance is an indication of the general weakness of the sector. Riverbed (NASDAQ: RVBD) declined 5.78 percent to $17.94 after M&A chatter proved to be untrue. Hewlett-Packard (NYSE: HPQ) declined 5.45 percent to $25.05 ahead of its earnings on November 26.
Related: Analyst Round-up Following Cisco Results
Shares of Tile Shop Holdings, Inc. (NASDAQ: TTS) plunged 38.96 percent to $12.95 after Gotham City Research claimed the company overstated its earnings by 200 percent. The report states "Tile Shop's shares are worth no more than $1.54-$3.34/share, implying 84%-93% downside."
Earnings of Note
Wal-Mart posted its third quarter results pre market. The company's EPS of $1.14 beat estimates by a penny. Revenue came in short of expectations at $115.67 billion, missing by $1.08 billion. The company also guided its fourth quarter EPS lower to a $1.60 to $1.70 range versus $1.69 consensus. Shares of Wal-Mart closed the day up 0.24 percent to $79.09.
Related: Sources Say Riverbed is Not Considering a Sale
Kohl's (NYSE: KSS) third quarter results released premarket missed on both EPS and revenue. The company earned $0.81 a share versus a consensus of $0.76. Revenue of $4.44 billion was 1 percent lower year over year and missed consensus by $0.11 billion. The company also lowered its full year fiscal 2013 outlook EPS to $4.08 to $4.23 a share from a previous $4.15 to $4.35 range. Shares closed the day down 8.07 percent at $53.36.
Nordstrom (NYSE: JWM) reported its third quarter results after the bell. The company's EPS of $0.69 beat the $0.66 estimates, while revenues of $2.88 billion topped the $2.87 billion estimates.
Quote of The Day
"The lesson of history is that you do not get a sustained economic recovery as long as the financial system is in crisis." - Ben Bernanke, in an interview with CBS's 60 Minutes.
View Comments and Join the Discussion!
Posted-In: Earnings News Eurozone Econ #s Federal Reserve After-Hours Center Markets Movers Best of Benzinga