Elon Musk Wants Tesla Electric Truck to Compete with Ford F150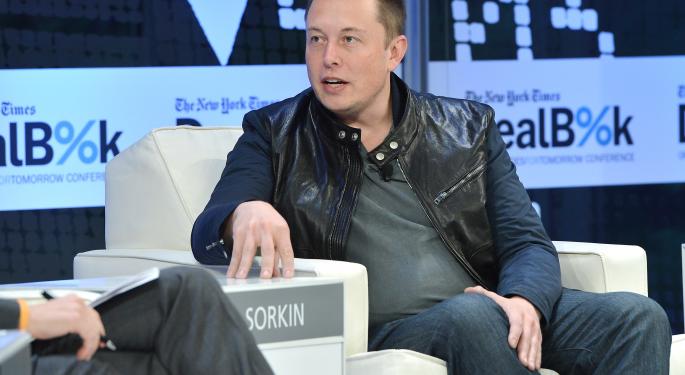 Is a full-size, battery-powered pickup truck even possible?
Apparently Tesla (NASDAQ: TSLA) CEO Elon Musk thinks so. Musk said Tuesday that he would like to have a vehicle to compete with Ford (NYSE: F)'s F150 in about five years.
According to CNN Money, after appearing at Business Insider's Ignition Conference in New York Musk said, "If you're trying to replace the most gasoline miles driven, you have to look at what people are buying." Referring to Ford's marquee workhorse he added, "That's the bestselling car in America. If people are voting that's their car, then that's the car we have to deliver."
With Tesla selling just 14,000 of its Model S sedans in the first nine months of this year, compared with Ford's 560,000 F series pickups in the same period, the company has some catching up to do.
This, of course, also assumes it can actually develop a competitive truck and successfully market it to buyers who demand a vehicle capable of taking on an enormous workload. Tesla does seem headed in that direction, with the Model X crossover SUV set to start production in late 2014.
Following three battery fires, Tesla stock took a hit, falling more than 20 percent over the past month according to CNBC. Nonetheless, Tesla shares are still up more than 300 percent year-to-date. In addition, CEO Musk said Tuesday that the company had no plans to recall the Model S, something some in the industry had speculated.
Related: Tesla Model S Catches Fire - Causes Stock To Dip
Meanwhile, PickupTrucks.com pointed out the hurdles Musk and Tesla would face in the development of a truck the public would buy. Not the least of these would be the cost and time required to engineer a suitable chassis that does not result in compromised range or payload capacity.
None of this, of course, has stopped speculation about a Tesla truck, nor has it stopped Musk from talking about one. Musk first hinted at a truck in a conversation with Texas legislators in April.
In trying to convince Texas lawmakers to change restrictive laws that prevent Tesla from selling its vehicles directly to consumers, Musk suggested that Texas would make a perfect place for a manufacturing facility.
Then he added, "I have this idea for a really advanced electric truck that has the performance of a sports car but actually more towing power and more carrying capacity than a gasoline or diesel truck of comparable size."
Musk's latest comments make it clear that he still has a truck in mind. Now we know he also has Ford in his sights.
At the time of this writing, Jim Probasco had no position in any mentioned securities.
View Comments and Join the Discussion!
Posted-In: battery fires battery-powered pickup truck Business Insider's Ignition Conference CNBC Elon Musk F series pickups F150Media Best of Benzinga