Texas Roadhouse Expands, Takes Q3 Miss Well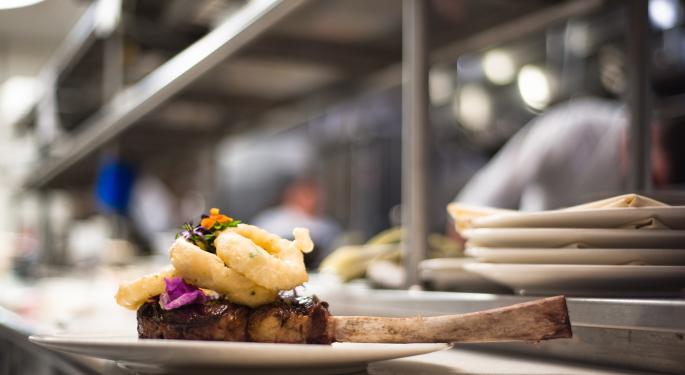 Texas Roadhouse (NASDAQ: TXRH) President Scott Colosi discussed the restaurant's plans for expansion, as well as their increase in sales despite having lower profits during its Q3 on CNBC's Squawk Box Tuesday morning. 
According to the latest report, Texas Roadhouse restaurants' same-store sales continue to do well in terms of growth. 
"We've got a lot of momentum in sales and, and it leads us to certainly be confident in the things we're, we're working on are the right things from the guest perspective," said Colosi. 
"The folks running our restaurants are doing an outstanding job in executing the mission of legendary food and legendary service each and every day, and so for a long time, we've had a lot of momentum in our sales and we're building a lot of stores, 25 to 30 restaurants next year," said Colosi. 
The company's Q3 report show net sales of $334.8 million, missing analysts' estimates of $338.5 million, and net income fell 5 percent, generating an EPS of$0.24 opposed to analysts' expectations of $0.25 EPS. 
"We're just over 400 stores now and we're in 48 states…We're actually going to get up to Alaska, which will be our 49th state, ah, early next year," said Colosi. 
Colosi cited their mission statement, saying that they aim to offer legendary food and legendary service, beginning with good steaks. 
Related: #PreMarket Primer: Tuesday, October 29: Fed Meeting Likely Uneventful
"We hand cut all of our steaks, ah, every day in our restaurants. We use a great quality product," said Colosi. 
"And we also both sear and grill our steaks. The seasonings we use our our steaks is all part of the differentiation that we have versus Outback (NASDAQ: BLMN) and other players in the industry." 
Colosi also expressed excitement about bringing their Texas cuisine to new markets around the globe.
"We're also continuing to grow internationally. We've got a few more stores coming up in the Middle East, ah, next year, as well. Same size of legendary food and legendary service mission, internationally as well. So we're very, very confident in the direction of our business."
Jason Cunningham had no position with the mentioned entities while writing this article. Visit Jason on Twitter at @JasonCunningham and @Benzinga.
Posted-In: CNBC Earnings News Dividends Futures Commodities Restaurants Hot Best of Benzinga
View Comments and Join the Discussion!