His Name Is Kid Rock, Detroit Is His City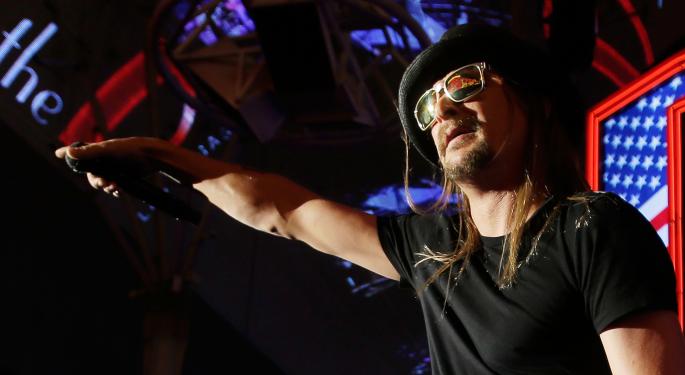 CNBC's Squawk Box featured an appearance by Michigan native and Detroit resident Kid Rock Wednesday morning.
While on the show, Rock discussed the success of his last tour and his hopes for the Motor City.
Rock is an economy man, rolling through his latest tour with practicality and loyalty towards his fan base by offering $20 tickets to concerts and $4 beers as options. According to him, this has helped push his crowds to upwards of 19,000 at some shows.
While some argue that he's missing out on the gains of price gouging, Rock argues that not having accessible price points for lower-income audience members is simply bad business. He joked that the model was simple, especially coming from someone who wasn't college educated or the most attentive student during his academic career.
"The little bit of research that I've done, you know, Sam Walton kind of had it right, you know: 'Bigger volumes, less price.' and ah, we're just starting to get the numbers back from the tour, and it was one of the best summers I've had," said Rock.
Rock said that he's done better than any other summer tour in his career by keeping concerts affordable, and found that those with more money were willing to spend it, especially if it was for larger beers at shows.
As far as his hometown of Detroit goes, Rock bought a waterfront home in Michigan a few years ago, and he's interested in investing into the city's revitalization. A major issue for him is regulation when it comes to homeownership, specifically in historical districts. He sees too much "red tape" for a city like Detroit that's trying to attract new residents.
"You have to have an attorney to go through three committees for everything, and this cannot happen in a city where you're trying to get people back down there," said Rock.
Rock talked of difficulties in securing his home, specifically when trying to build a gate, as well as when he tried to put up new siding and other home improvements. The musician has also had it a mission to improve the city, even holding a free fundraising concert in order to help settle the Detroit Symphony Orchestra strike.
Related: Dan Gilbert's View On Detroit's Revitalization
"There's no place on earth, no city with more style than Detroit city. Hands down, that's a fact," said Rock.
Rock is aiming to help Detroit look towards a brighter future both through the younger generation and people like himself of more affluent means, saying that they need to fill the downtown and the homes along the river.
Of the long list of musicians to find success coming out of Detroit, from pop to rock to rap to the soul of Motown, not many are laying out the positivity that Rock is while also pitching in towards a solution.
"Madonna ain't done nothing for Detroit," declared Rock regarding the long list of musical artists that have blossomed from growing out of Detroit.
Rock thinks that Detroit's sense of community makes it perfect for artists and other urban pioneers to fine tune their crafts and start business. Rock also believes that the people will save the Motor City, not the government.
Jason Cunningham had no position with the mentioned entities while writing this article. Visit Jason on Twitter at @JasonCunningham and @Benzinga.
Posted-In: CNBCPolitics Economics Success Stories Hot Movers Media General Best of Benzinga
View Comments and Join the Discussion!