Twitter, Mobile Tech And eCommerce With Groupon's Ted Leonsis (GRPN)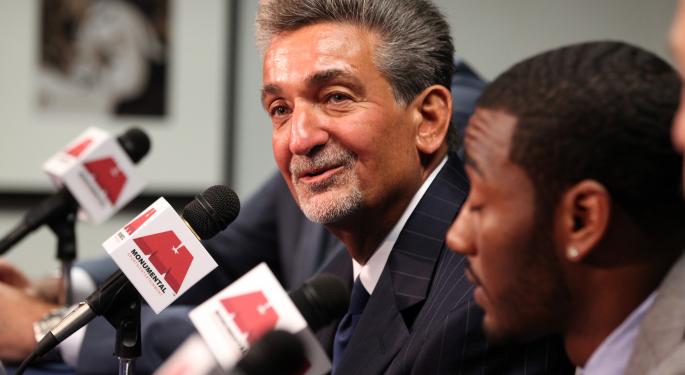 Groupon (NASDAQ: GRPN) Chairman Ted Leonsis projected Twitter's success as they move forward towards their initial public offering, and discussed his former company AOL's (NYSE: AOL) influence over the revolutionary communication technology Friday morning on CNBC's Squawk Box.
Leonsis also talked about the mobile future of tech and its trans-formative powers in the eCommerce landscape.
"I think Twitter is a great success story, and really kind of a god child of what we were building at AOL in the first generation of getting people online," said Leonsis.
"I'm very proud of what they've done. We invented instant messaging and real-time commissions with AIM, and they've taken that and really turned it into a publishing platform in a one to one and one to many communications, and I think it's just getting started."
He noted the 2.2 billion Internet users around the globe, saying that the majority of them are using mobile devices, such as smartphones and tablets while implying that Twitter will have a bright future from the dawn of the evolving tech era. Leonsis said that he would definitely invest at Twitter's initial public offering, and wished he got a piece of the action before they announced their plans to go public.
Related: Firsthand Funds' Kevin Landis Talks Best Tech Stocks And Twitter Value
Leonsis called companies like eBay (NASDAQ: EBAY) and Amazon (NASDAQ: AMZN) "the next generation eCommerce platforms," and included Groupon in the list, saying that "just about every great company is trying to take advantage of this local, social, mobile, real-time phenomenon that's really birthing, I think, the biggest new industry ever."
"I think that people will start their day thinking about 'What do i want to do today? Where do I want to eat? What do i want to buy?' and hopefully they'll look at their phone and click and buy on Groupon," said Leonsis.
At the time of this writing, Jason Cunningham had no position with the mentioned entities. Visit Jason on Twitter @JasonCunningham.
Posted-In: CNBC News Futures Movers & Shakers IPOs Success Stories Hot Markets Best of Benzinga
View Comments and Join the Discussion!