Wrestling Hits Back Hard Into The Olympics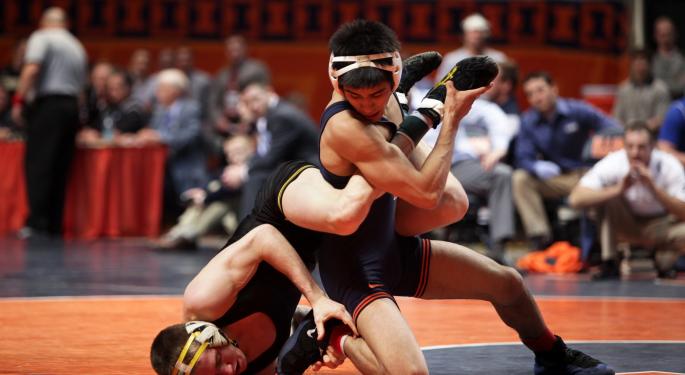 Michael Novogratz, president of Fortress Investment Group (NYSE: FIG), Princeton University wrestling team alumni and spokesman for the Committee for Preservation of Olympic Wrestling, appeared on CNBC's Squawk Box Monday morning to comment on the International Olympic Committee's choice to bring wrestling back into the mix for the 2020 in Tokyo and the yet-to-be-determined 2024 Olympic games.
Novogratz said that the decision was a political one, saying that the International Olympic Committee ditched wrestling as a "warning shot" against the sport's clear way to encourage its modernization.
"We made rule changes. It was kind of metaphoric for wrestling. Every once in a while, in a match, you get your tail kicked in and you've got to pick yourself up and respond, and so I don't think in essence the IOC really ever wanted to throw wrestling out," said Novogratz.
"When I look back on this, I think this was a very kind of strange way for them to get their way and to push the sport in a positive direction."
According to Novogratz, it's about making the sport more fan friendly.
"They were small changes made, but changes that are pushing the sport in the right direction. A lot of it was around gender parity. We took two of the weight classes away from the men and added them to the women," said Novogratz.
"And so, you're starting to have more gender parity in wrestling than you used to. Women's wrestling is a fast growing sport in [many] part[s] of the world."
Related: Earnings Expectations For The Week Of September 9
With 171 different countries having their own wrestling federations, Novogratz said, and 80 of them represented in the London Olympics, the sport is huge on an international scale.
"Of which 29 won medals. No other sport has that kind of breadth," said Novogratz.
Novogratz described a huge change in a tie was once resolved in wrestling, calling it a "crazy system of pulling a ball out of a bag and if you had a, if you were the wrestler in the red singlet, you got the red ball, you had a big advantage in breaking the tie. And now it's a much fairer way of ending a match."
"It drove every wrestling fan crazy that we were literally ending matches in coin flips," said Novogratz.
At the time of this writing, Jason Cunningham had no position with the mentioned entities. Visit Jason on Twitter @JasonCunningham.
Posted-In: CNBC CNBCNews Topics Global Hot Media General Best of Benzinga
View Comments and Join the Discussion!