Dennis Gartman Sees Growth For Gold On Down The Road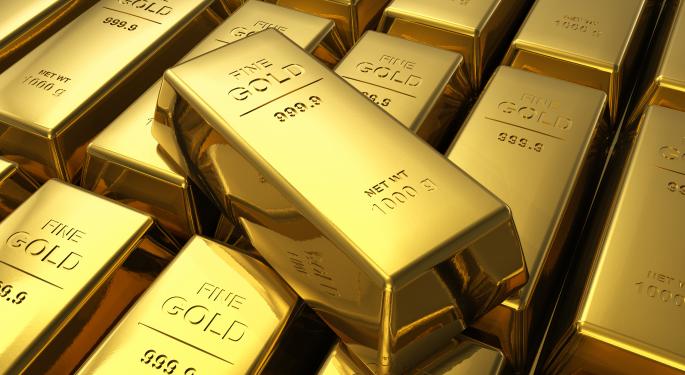 Editor and founder of The Gartman Letter Dennis Gartman thinks that gold (NYSEARCA: GLD) will be on the rise. He talked gold, as well as some of the other investments that he likes, on CNBC's Squawk Box Monday morning.
"I'm not a gold bug, but I am bullish of gold, I've owned gold for a while and I continue to own it. I think it still wants to go higher. I own it in yen terms, I own it in euro terms, and I think I'd rather own it in those terms. It's just nothing more than another currency, and in a world where there is some confusion, [as in] Egypt, money is moving to safer havens…and it's moving to gold," said Gartman.
"Gold wants to go higher. "
Related: Benzinga Market Primer: Monday, August 19: Markets Cautious Ahead of Fed Meeting Minutes
While talking currencies the Indian rupee's decline came up, which continues to hit new lows.
"I wouldn't call today's movement a crash. We didn't move more than, I think it was [1.5] percent, which is large for a currency by any stretch of the imagination, but we've seen more than one percent, [1.5] percent, 2 percent currency moves recently in other areas. So, it's worth keeping an eye upon,"
He followed by stressing that it's on his radar screen, and it should be on everyone's.
As far as stocks go, Gartman said that he is bored with them.
"I don't know whether to buy them. I don't know whether to sell them…I trade only for my own account, so there are so many other markets that I'm paying attention to, especially the forex market. I'm fascinated by what's going on in the energy market,"
"I think it's fascinating this morning that we're seeing with all the problems in Egypt, we're not seeing the crude market rallying at all. In fact, it's weakening up. I find that fascinating, but as far as stocks are concerned, I made a mistake getting back in."
Despite ongoing political and civil unrest in Egypt, Gartman noted that their stock market is "actually trading better," citing that Mohamed Morsi's government was "horrifying," saying that "I hate to see coups of any sort, but he needed to be gone," because of the "irreparable damage" he did to the Egyptian economy.
At the time of this writing, Jason Cunningham had no position in the mentioned equities.
Posted-In: Long Ideas Emerging Markets Eurozone Rumors Emerging Market ETFs Futures Commodities Currency ETFs Best of Benzinga
View Comments and Join the Discussion!