Cisco Systems' John Chambers Discusses Adjustments, Beats And Cuts (CSCO)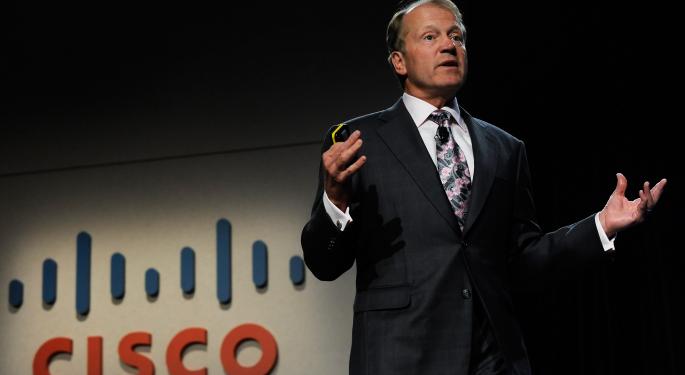 John Chambers, chairman of the board and CEO of Cisco Systems (NASDAQ: CSCO), discussed the company's Q4 profits beat, along with the change in their revenue guidance for the current quarter, and announced layoffs on CNBC's Squawk Box Thursday morning.
"We just announced our tenth quarter in a row of record revenues, and if we hit our expectations for the next quarter, you'll continue to see that type of momentum. We also announced our seventh quarter in a row where profits grew faster than revenues. So, delivering exactly what we told the Street we would do, gross margins in line, earnings per share at the high end of expectations, " said Chambers.
"For the next quarter, actually the consensus is coming out, earnings per share, exactly where it was before the call, and the expectations on revenue is down like $110 million from $12 billion...down $110 million from that one percent…Now, there are a lot of things in the quarter that went very well. It's a very small adjustment."
Chambers believes that the markets might of missed in their reaction to the adjustment, which he believes accounts for some of the negative repercussions seen on Wall Street.
"We're talking about expenses that are not going to be reduced this next year. They're going to be flat to up slightly. We're talking about re-aligning resources, a number of which w'eve already done on the positive side to look where our growth opportunities would be," said Chambers.
"You saw that in the data center growing at 43 percent. You saw it in wireless growing at 32 percent. You saw it in video growing at 23 percent. You saw it in switching growing at five percent. Public sector around the world, I think people missed."
Chambers noted that for the first time, the company showed weakness in the emerging markets, saying that Cisco Systems only grew by eight percent in emerging markets, with their top five emerging markets only growing by one percent.
Related: UPDATE: ISI Group Upgrades Cisco Systems Following Quarter Results
Cisco Systems is also cutting their workforce by 4,000, trimming off employees gained in company acquisitions.
"It's because the market is moving so fast…If you watch what we've done historically, the mistakes I've made [happen when] I either move too slow, or move fast without process," said Chambers.
"The market in terms of these new areas of technology, the cloud, where we became the number one player in cloud this last quarter, an area people didn't even think we'd play in. Mobility, where we've got the best architecture in the industry. You have to do acquisitions. You have to do internal development."
At the time of this writing, Jason Cunningham had no position in the mentioned equities.
View Comments and Join the Discussion!
Posted-In: Earnings News Emerging Markets Futures Movers & Shakers Hot Markets Movers Best of Benzinga