Comcast CEO Brian Roberts Dives Into Q2 Results, Synergy And Streaming (CMCSA)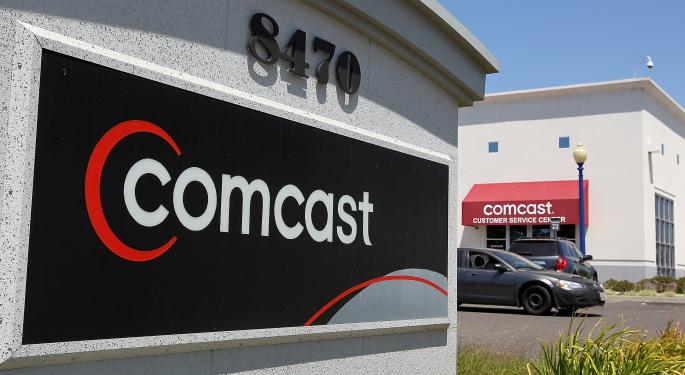 Q2 marks the first full quarter that Comcast (NASDAQ: CMCSA) has fully owned NBCUniversal.
During the quarter, revenue hit $16.3 billion, generating EPS of $0.65, beating out Wall Street analyst's projections of $16.1 billion in revenue and $0.65 EPS.
Comcast Chairman and CEO Brian Roberts appeared on CNBC's Squawk Box Wednesday morning to go over the company's strong Q2 results and future trends.
"We made a big, big decision for the company, really, at the end of the first quarter to buy the other 49 percent, and I think our timing, at least for this first 90 days, looks great… We had 21 percent growth in cash-flow at NBC Universal, 9 percent revenue growth, really, all the businesses grew revenue, and that's a real highlight for me," said Roberts.
"And so our decision to invest another $18 billion in content, we feel great about that. And we're off to a 21 percent increase in one quarter. that may not be completely sustainable at that level, but all the businesses, for the first half of the year, had a strong year."
Related: Comcast Shares Move On Q2 Earnings (CMCSA)
The "diversified nature" of the content portfolio, including theme parks, adds a lot of value to the company as well as future business opportunities, Roberts said.
"We don't feel that we're at maximum performance. I think we're operating better, and well. The team has gelled," said Roberts.
According to Roberts, they also had their best quarter of high-speed Internet sales, 120 percent better than last year's Q2, that they've had in the past five years.
With streaming distribution channels like Netflix (NASDAQ: NFLX), Hulu and Amazon (NASDAQ: AMZN) Prime chugging along with more subscribers, and original programming, many have questions about cable television's future in the media space. Roberts, however, noted that Comcast is part of the transformation.
"It is in everybody's interest to find a way for the consumer to get whatever they want, whenever they want it, and to have a lot of choices, and that is what we're all racing toward," said Roberts.
"And I think we're in a very special place at this cross-section of media and technology, and it's an opportunity that we're not trying to be complacent, but rather trying to innovate and push ourselves."
Posted-In: News Dividends Futures Success Stories Hot Markets Tech Media Best of Benzinga
View Comments and Join the Discussion!