Bill Ackman Needs Herbalife to Report Disappointing Earnings Monday (HLF)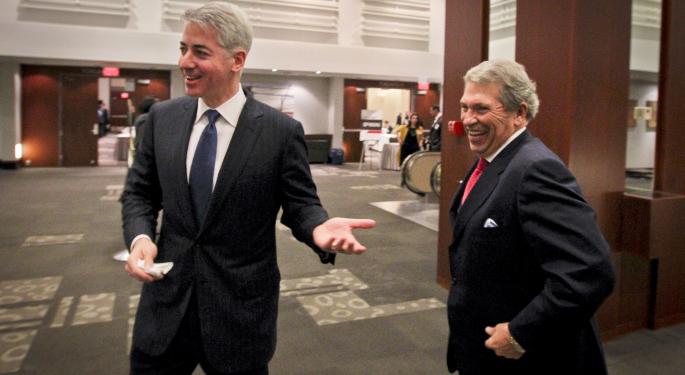 Herbalife (NYSE: HLF) will report earnings on Monday and it's safe to say that few will be watching more closely than Bill Ackman.
The company is expected to report EPS of $1.18—a year over year increase of 7.3 percent and $1.16 billion in revenue—up 12.4 percent from one year ago. Although the company has beat estimates in the last four quarters, living up to expectations will prove difficult. The stock is up 51 percent in the past six months and sitting at 52 week highs. This is a recipe for profit taking and that's likely what hedge fund investor Bill Ackman is banking on.
According to the New York Post, Ackman's hedge fund, Pershing Square, is carrying a loss of about $200 million on his short bet. It has cost his funds about two percent according to the Post.
The stock currently sits at $58.45 giving him an unrealized loss of about $170 million on his 20 million shares he is short. It is believed that his cost basis is around $50 per share.
But shorting stock, much like options trading, penalizes the investor as times passes. Ackman has to pay dividends to the shareholders of those 20 million shares along with borrowing costs of about four percent of the stock's market price.
Related: Carl Icahn Cracks Up Crowd at Delivering Alpha
Initially, the bet was going Ackman's way. After delivering a deeply researched report complete with a PowerPoint presentation with more than 100 slides, the stock dove to about $26. Then, what would turn out to be one of the most public hedge fund battles ever, began to play out.
Most notable was billionaire Carl Icahn taking a long position in the stock and beginning a war of words with Ackman that came to a head in a CNBC interview where host Scott Wapner had both Icahn and Ackman together. The interview got ugly. Complete with personal attacks and the normal Wall Street posturing, it was some of the best Wall Street drama in recent history.
Recently, Icahn appeared at the CNBC Delivering Alpha Conference where he said, "I like Ackman. Anyone who makes me a quarter billion dollars, I like."
How much conviction Ackman has in Herbalife is likely being tested and with the company's earnings release set for Monday, Ackman will be hoping that even a positive report will be met with profit taking. Icahn seems happy to be holding the bragging rights.
Disclosure: At the time of this writing, Tim Parker had no position in Herbalife.
Posted-In: CNBC Earnings News Guidance Dividends Rumors Financing Legal Best of Benzinga
View Comments and Join the Discussion!