Starbucks CEO Howard Schultz Breaks Down Q3 And Comments On Competition (SBUX)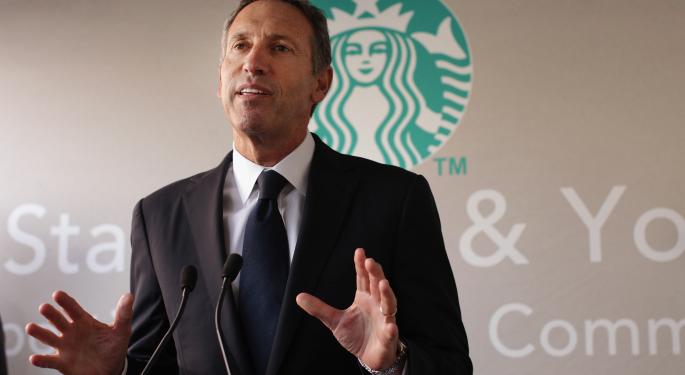 Starbucks (NASDAQ: SBUX) CEO and Chairman Howard Schultz appeared on CNBC's Squawk on the Street to talk about the company's Q3 results, which are the strongest for Q3 in the company's history.
Schultz broke down the numbers, talked about what's been successful and responded to the expansion of a competitor that he believes is in a different game altogether.
Schultz accredited the remarkable quarter to the company's long-term strategy of increasing Starbucks' relevancy in the daily lives of people.
"On our base of stores, to do nine percent [comps] in the U.S. given some of the economic issues, is really a stunning indication of the power of the Starbucks brand," said Schultz.
According to Schultz, they're also serving more customers now that at any other time in Starbucks' existence.
Related: Starbucks Jumps on Lifted Guidance, Strong Q3 Results (SBUX)
"That's being driven by more frequency of our core business, but we're driving new costumers into the stores and…one of the primary reasons is the affinity, My Starbucks Rewards™ program, and the fact that we've really cracked the code and lapped all of our peers in terms of mobile transactions," said Schultz.
"We are now processing almost 5 million mobile transactions a week at Starbucks."
He also cited global appeal as a success factor, saying that they're getting ready to open their 1,000th store in China, and that they already have 1,000 stores in Japan. Schultz also noted that they had positive comps in Europe for the first time. Starbucks has had a 7 percent increase in global traffic altogether.
Schultz said that they're "the only consumer brand in the world that has a global retail footprint, a CPG business, a loyalty card and mobile platform, and this flywheel effect is creating an ecosystem for Starbucks domestically and around the world."
Starbucks isn't worried about competitor Dunkin' Donuts (NASDAQ: DNKN) extending its brand into California, Schultz said.
"We respect all of our competitors, but I think Dunkin' and McDonald's (NYSE: MCD), they're in another business, they're in the fast-food business. No, I don't think there's anything that Dunkin' is going to do in California," said Schultz.
"California in a sense is Starbucks' largest country with almost 3,000 stores, and we're still opening stores in California. California is one of the strongest regions for the company. I'm not loosing any sleep over Dunkin' Donuts."
Posted-In: CNBC Earnings News Movers & Shakers Topics Global Success Stories Hot Best of Benzinga
View Comments and Join the Discussion!