Egypt's Banking Sector Amid A Revolution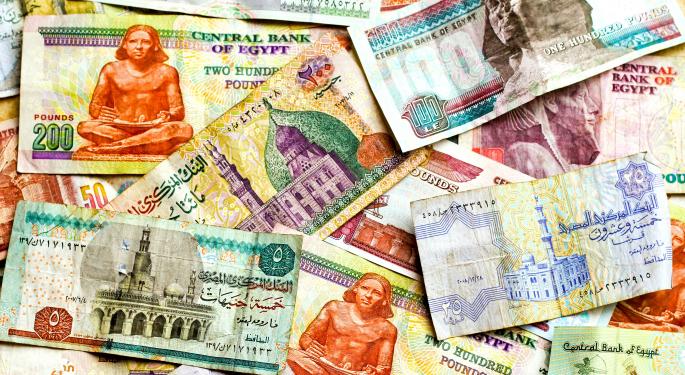 Federation of Egyptian Banks chairman Hisham Ezz Al-Arab talked went over the difficulties that Egypt's economy is facing during its political transition on CNBC's Squawk Box Friday morning.
Amid chief justice Adly Mansour being sworn in as interim president of Egypt, The Egyptian military took down the countries former president Muhammed Morsi and suspended his reformed constitution, putting him and many of his supporters under house arrest.
Ezz Al-Arab began by providing some history on Egypt's banking sector through the sat decade, and said that their banks stay away from the country's politics "because we serve the entire society."
"Definitely political changes are impacting our business. Mind you, that for the last 12 months since the politically elected at the time President Morsi, long growth has been stagnant. Why? It's because people don't have a clear, full economical outlook," said Ezz Al-Arab.
"This has been the challenge for us. We need to see a road map about economic reforms going forward for either from the previous government or the coming government. It's really hard to drive your truck in heavy fog."
Related: Egypt's Second Revolution Affects Crude Oil
He noted that as an individual from the banking sector, he thinks that the country's next Prime Minister should be the current governor of the central bank Hisham Ramez Abdel Hafez.
"I know the gentleman well. We worked together for a short period of time. He has been the governor for a while now. He took over responsibility as the governor of the central bank at an extremely tough time. Many of the people I know have turned it down," said Ezz Al-Arab.
Ezz Al-Arab said that corporate Egypt is in "reasonable" shape because of how the reforms in the banking sector have effected the leverage of the cooperate sector, helping them to "manage to survive."
The rest of Egypt's citizens are struggling.
"That's from the macro side, not from the corporate side. I mean, corporates have huge backlog of investments to make. Demand is growing. Jobs are not being created because there is no new investments are being made," said Ezz Al-Arab.
"Mind you, 2011, '12 and 2013, 600,000 graduates from universities came to the labor market every year. Fewer than couple of hundred thousand managed to find a job over the last three years," said Ezz Al-Arab.
Ezz Al-Arab called the situation a "time bomb" of over 1.5 million Egyptians that everted their labor market jobless.
"I wish that Dr. Morsi came out in June last year and told Egyptians: 'We're setting a time bomb. We have a major problem there. This is the situation of our economy. There are decisions regarding the structure and reforms that should have been put in ten years ago," said Ezz Al-Arab.
Posted-In: News Politics Topics Events Global Economics Hot Media Best of Benzinga
View Comments and Join the Discussion!