Your Inkjet Printer Might be Wasting Half of your Ink!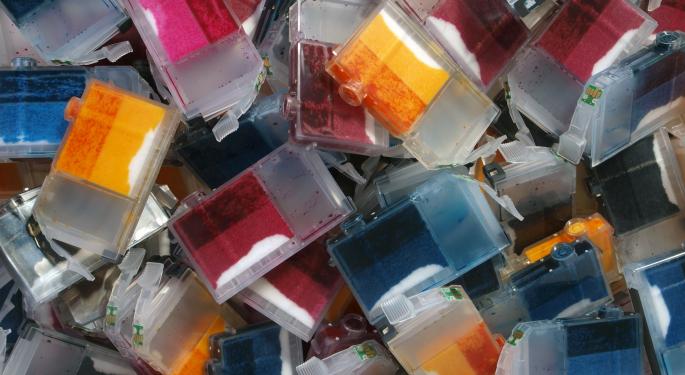 Did you ever wonder why the ink cartridges in your printer are so expensive but seem to not last very long? Consumer Reports went to work and found the answer.
According to CNBC, an ounce of printer ink costs about $13. That's more expensive than some of the finest champagne. If that's true, next time you accidentally print that webpage with the black background, tears will likely stream down your face.
But there might be another reason to cry. Consumer Reports found that a lot of your printer ink is wasted on tasks that have nothing to do with printing.
Think about this for a minute. You turn on your ink jet printer, and listen to something inside it move slowly from one side to the other—and then back again. If you've ever wondered what it's doing, the answer is that it's running through a cleaning cycle and its using your $13 per ounce ink to do it.
Those cleaning cycles may use up to 50 percent (you read that correctly) of your ink over the life of the cartridge. Some models were so wasteful that only 20 percent of the ink ended up on a piece of paper.
"Our tests confirm that it's worth paying attention to how much ink is used for cleaning and maintenance, and to make that part of your buying consideration," said Electronics Editor Paul Reynolds.
The two biggest ink wasters were the Hewlett Packard (NYSE: HPQ) Officejet Pro 8600 and the Lexmark OfficeEdge Pro. Brother came in as the most frugal with the ink with the DCP-J140W named a CR best buy.
Related: Stocks for Weak Yen at 120
But the interesting, and frustrating, part of the story is that some models by the same manufacturer were more efficient than others. The HP Envy series was much more efficient than the Hewlett Packard Photosmart series.
Of course, PR people at the printer companies want you to know that they're watching out for your best interest by making sure everything you print looks good but if they can make one series more efficient with the ink, why not others? Feels like a conspiracy of some sort, doesn't it?
If you're a black and white kind of person (your print habits, not your personality), scrap your inkjet and get a laser printer. They're well below $100 and although the cartridge costs more, they last longer and have less of those annoying glitches that come with inkjets.
If you print mostly pictures, an inkjet is probably still your best bet. Color laser printers are on the market but they're still expensive and require multiple cartridges that are sometimes more than five times more expensive than inkjets.
If you plan to keep your inkjet, don't turn the printer off. That will minimize the amount of cleaning cycles. It will still waste ink but you can feel a little less like a victim of a printer conspiracy theory.
View Comments and Join the Discussion!
Posted-In: CNBCMedia Personal Finance Best of Benzinga