Piper Jaffray Senior Research Analyst Peter Keith Talks Best Buy And Retail In Year's Second Half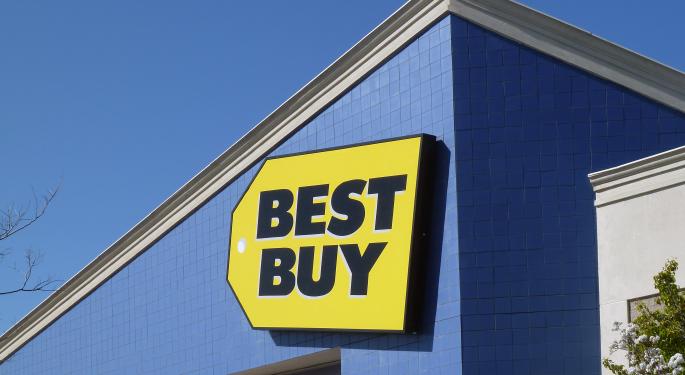 Peter Keith, senior research analyst at Piper Jaffray (NYSE: PJC), appeared on CNBC's Squawk Box Friday morning.
He was going to talk to the folks at Squawk Box about back-to-school shopping and how it'll effect the retail sector going into the second half of 2013. Instead, he mostly talked about Best Buy's (NYSE: BBY) amazing 134 percent year-to-date recovery and retail in general.
Keith said that "Best Buy is still my favorite stock out of the 19 stocks that I cover." He said that most of the appreciation seen this year has been mostly do to management cutting costs away from a "bloated infrastructure."
"The numbers come up, but not necessarily the multiple of the stock, because people don't want to pay a lot for a cost cut story," said Keith.
"The bottom line is that the management team has a number of initiatives that we focus on that we think are going to drive sales and gross margin before the end of the year. You're going see these layer in each quarter as we go forward."
He went over Best Buy's conversation rate of 40 percent, saying that it's half of a good conversation rate, which would be 80 percent for a big box retailer where people "expect to buy something and walk out."
Best Buy did a study of their costumer traffic, and found that around 19 percent of people that go there actually want to buy something, and end up buying nothing.
"So, either they have a bad experience with an employee, um, or one of the big things is that the item they want to buy is out of stock," said Keith.
These are the basics of retail Keith said. Meaning that you have the right product stocked in the right stores, and well-trained employees. According to him, if you "drive better customer satisfaction," and keep track of it, then you can increase your conversion rate without increasing traffic or pushing a new product cycle.
Keith predicts that retail stocks in general will do well over the second half of the year, and that consumer spending will be "better." He included that people will be spending more on their homes, and he cited Home Depot (NYSE: HD) as another favorite retail stock.
Keith wrapped up by saying that he thinks that dollar stores and other retailers of that nature are a real weak spot and will take a hit moving forward into 2013.
Posted-In: CNBC News Guidance Futures Retail Sales Topics Hot Markets Best of Benzinga
View Comments and Join the Discussion!