Why O'Shaughnessy Asset Management CEO Jim O'Shaughnessy Likes Emerging Markets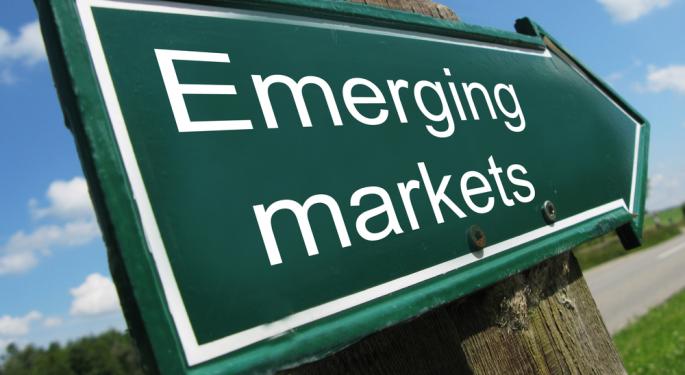 Jim O' Shaughnessy, founder, chairman and CEO of O'Shaughnessy Asset Management, provided his strategies for investing in emerging markets on CNBC'S Squawk Box Thursday morning.
When judging an emerging market for investment, O' Shaughnessy looks at three things quantitatively .
"We look at their value, we look at their dividend yield, and we look at their momentum," said O'Shaughnessy.
O'Shaughnessy noted issues like protests in Turkey, gold collapsing (a crutch of the South African economy), struggle in the streets of Brazil, the possibility of Russia harboring Edward Snowden, and death in Syria all as bad situations that they "love."
"All bull markets have to climb a wall of worry, and boy, emerging markets are certainly giving us that wall to climb," said O'Shaughnessy.
He followed by saying that international stocks are considerably better at generating alpha, even in excess, because they are "under covered," meaning that there's no real coverage in the country, let alone on the stocks within that market.
O'Shaughnessy said that they've looked at the excess alpha that can be generated in the U.S. and by comparison, momentum in the U.S is at around 3 percent excess alpha to emerging markets' 6.6 percent.
O'Shaughnessy attributed quantitative easing within the world's central banks as a reason for emerging markets doing so well. He thinks that if the Fed tightens up and pulls away from quantitative easing, that it won't make too much of a difference to emerging markets. Even if U.S. stocks got hit hard, he said that it wouldn't necessarily send emerging markets into a plummet either, although it probably would. The possibility of that, however, is unlikely he said.
"From our perspective the emerging markets are a great diversifier in the portfolio, and they can, in fact, zig, when our markets zag," said O'Shaughnessy.
O'Shaughnessy manages his emerging markets assets in a separately managed account at a minimum of $250,000 for the separate account alone.
"I would recommend that most people use the ETF, and just do down, and there's all sorts of tools on the web that can you say, okay, which of these emerging markets are the cheapest? Which have the highest dividend yield, and then buy the combination [that] is the best. High yield, cheap," said O'Shaughnessy.
Posted-In: CNBC News Guidance Emerging Market ETFs Topics Global Economics Hot Best of Benzinga
View Comments and Join the Discussion!