Waste Management's CEO David Steiner Talks Recycling Innovations And Natural Gas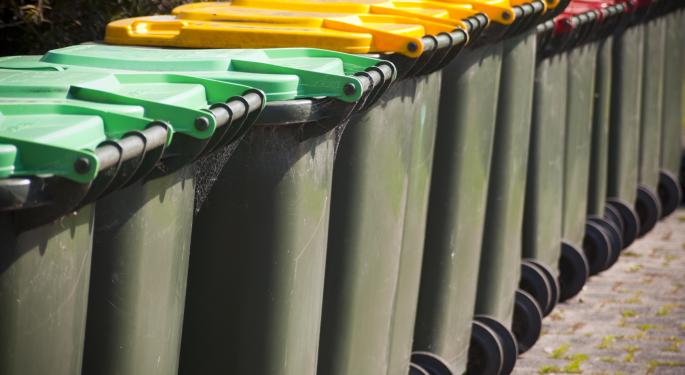 David Steiner, Waste Management's CEO, appeared on CNBC's Squawk Box to talk about the company's current success and future plans.
Waste Management's (NYSE: WM) stock has been doing well. Steiner noted that single stream recycling gives people a new convenience. It also helps with profits. Before, there were three separate bins for recyclables. Now everything can be put into one big recycling bin.
"The idea is to make it simple for the consumer. In Europe, in Japan, places like that, folks are, are raised to, to do what they need to do to recycle. The United States is a little bit different. We've got to make it easy for them," said Steiner.
Waste Management sorts the recyclables using technology at their plants.
"For us it's about extracting that value out of the material. So if we can get more of it from you, make it easier for you to do, we can extract more value out of it. That way we can actually do what's good for the environment and make a little bit more money," said Steiner.
Generally, the materials' proceeds are split with their costumers.
"So if we have your town, we'll, ah, we'll do a 50/50 type of split. Where we'll take the material, we'll sell if for them, and then they'll get some of that money back. So it actually makes it more cost effective for the, for the, for the municipality, um, also makes it more profitable for us," said Steiner.
Steiner said that it does, however, make them vulnerable to the swings in those commodity prices, which he noted is happening a bit now.
Currently, Waste Management is helping companies like Wal-Mart (NYSE: WMT) find value in materials that would normally be considered trash.
"What we do is, we send folks into a manufacturing plant, into a large costumer like a Wal-Mart, and show them what they need to do to extract that value out of the materials. What does that do? It makes their overall cost lower, it makes our profitability higher. It's the ultimate win-win," said Steiner.
He also mentioned energy production, throwing compressed natural gas into the conversation, saying that most people don't realize how much the country invests in solar power. Steiner said that as one company, Waste Management uses garbage to create more electricity, almost twice the amount, than the entire solar power industry in the United States. He joked that when the sun don't shine, they're still producing electricity.
He said that they'll build about 25 CNG plants this year. According to Steiner, it just makes sense to invest in the infrastructure. CNG can be mixed with biogas from landfills and other waste areas to produce a cleaner fuel. He noted that about 13-15% of their trucks, a little over 2,200, are CNG. He said of the 1,000-1,400 trucks they'll buy a year, 90-95 percent will be CNG.
He's not opposed to exporting natural gas, saying that when natural gas prices go up, they do better in their waste to energy business, but obviously, they won't do as well with their fleet of trucks due to fueling expenses.
"It's sort of a nice edge for us," said Steiner.
He said that exporting natural gas is a bigger question for the United States economy, national security, and free-trade to answer down the road.
View Comments and Join the Discussion!
Posted-In: News Movers & Shakers Topics Management Hot Movers Media General Best of Benzinga