Brad Anderson Hopes For Better Days in Best Buy's Future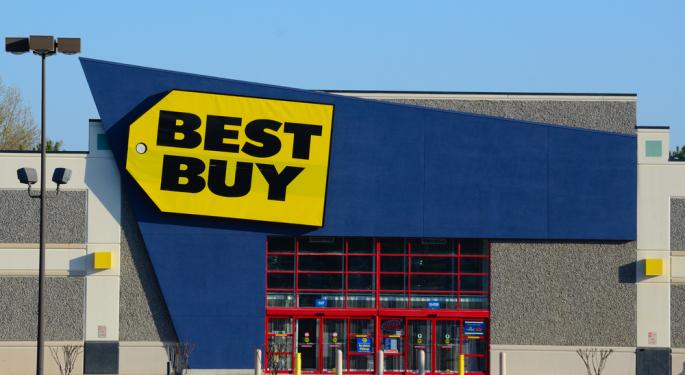 Many analysts declared Best Buy (NYSE: BBY) close to dead, unable to compete with the likes of Amazon (NASDAQ: AMZN), Wal-Mart (NYSE: WMT), and even GameStop (NYSE: GME).
But, strong leadership in the way of decisive decisions form their CEO Hubert Joly has allowed the electronics retailer to themselves around.
Brad Anderson, Best Buy board member and former CEO, went on CNBC's Squawk Box on Friday morning to talk about the company.
"When you're under pressure, there's a proclivity to try to go back to the places where you can produce profit, and do it from the center. And it leads to things that are just insane," said Anderson.
He said that when you loose focus on your costumer as a company, trouble will follow quickly. Anderson got involved with Best Buy again last year. That's when he and founder Richard Schulze attempted to acquire the company through private equity after seeing what he called "devastating" things transpire in regards to the company's long-term future.
He said that during this time, Joly was appointed. Anderson called him an excellent leader, and said that he started to move the company in a direction.
Anderson said that there's still much to do before Best Buy is in the position that it wants to be in, but that he feels encouraged about Joly's leadership in terms of where they're going to go.
But how does a company like Best Buy get an edge?
"By focusing on the costumer, focusing specifically on what the costumer can't do, and inspiring people to go do what the costumer is looking for," said Anderson.
Many costumers prefer trying out products like televisions, audio equipment and other more expensive items in-person, because they're performance-based. This might be an area of costumer service where they focus their attention the most in the years to come.
Anderson said that Apple (NASDAQ: AAPL) is their real biggest competitor, noting that as a manufacturer they opened retail stores based on their specific idea of what a costumer experience should be. It's worked for Apple and their costumer base.
In regards to the United States economy, Anderson said that big businesses are still pretty comfortable, and that it's small businesses that he worries about.
Posted-In: CNBC News Retail Sales Topics Management Hot Media General Best of Benzinga
View Comments and Join the Discussion!