Paul Ryan Believes We've Done Little In Terms Of Spending Cuts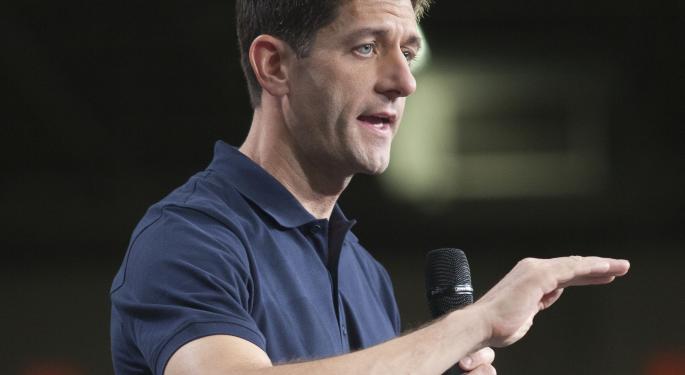 House Budget Committee Chairman Rep. Paul Ryan (R-WI) appeared on CNBC's Squawk Box Wednesday morning where he sat in as a guest for over an hour. While on, he talked about corporate tax reform, the federal budget deficit, and the GOP budget plan among other things.
"If you just passed our budget which everybody said was so dower and was so tough, we would still grow federal spending by 3.4 percent each and every year on average, instead of five percent. That's what the Republican budget does, and it balances the budget," said Ryan.
"We, with the new baseline, we think that we'd have a $110 billion surplus approximately in the tenth year in our budget. Well on our way to paying off the debt. Ah, the point is, when you do entitlement reform, we're not doing tough, hardcore austerity. These things kick in later on down the road. The kind of spending cuts we're talking about right now aren't even actually cutting spending. It's just slowing the growth of spending increases."
Ryan went on to say that we've actually done very little in terms of spending cuts, noting that the sequester only deals with a small part of government, only 2% overall, saying that we've actually seen spending increases, and that the deficit has only gone down because of the nearly $62 billion in revenues that unexpectedly came in from Fannie Mae (OTC: FNMAS) and Freddie Mac (OTC: FMCKJ).
"And go figure, capital gains went from 15 percent to 23.8 [percent] and people, their behavior adjusted to it. Meaning they realized their capital gains in 2012."
Ryan called it a one-off, saying that he's more concerned about the long-term.
"I'm concerned about the entitlement explosion, the bankruptcy of these programs, and I'm worried that if we just keep putting out head in the sand, then it will be austerity. What we're trying to do is preempt and prevent austerity," said Ryan.
He said that all of our retirement reforms need to be gradual and phased-in to protect people in and near retirement from any changes. Ryan added that you won't be able to do that if you have the credit markets turn on you.
In regards to the investigation of the Internal Revenue Service scandal hurting the progress of reforms, Ryan joked that they can walk and chew gum at the same time, saying that Republicans must continue to seek out good policy.
"Our job is to do good policy and oversight at the same time," said Ryan.
He said that what they've already discovered in the IRS investigations is chilling, saying that he saw it as the arrogance of big government.
What's good policy to Ryan? He said that all tax rates need to go down at a revenue neutral basis. He noted that in Canada, all business are at a rate of 15%, saying that with United States corporate tax rates at 35 percent, we just can't compete with our neighbor to the North.
He stated the importance of the U.S. being on the same page with the rest of the world on corporate taxes, saying that we need to make America a place to park capital. Ryan said that right now we're at a complete disadvantage, and that the House Ways and Means Committee is drafting legislation to bring down the corporate tax rate to the global average of 25 percent. He said that lowering the corporate tax rate will probably generate revenue
He then went on to preach about the benefits of being energy independent via more oil drilling and natural gas extraction, saying that exporting these resources would also do wonders for our foreign policy.
View Comments and Join the Discussion!
Posted-In: CNBC CNBCNews Politics Topics Hot Media General Best of Benzinga