Cisco's John Chambers Is Aiming For Number One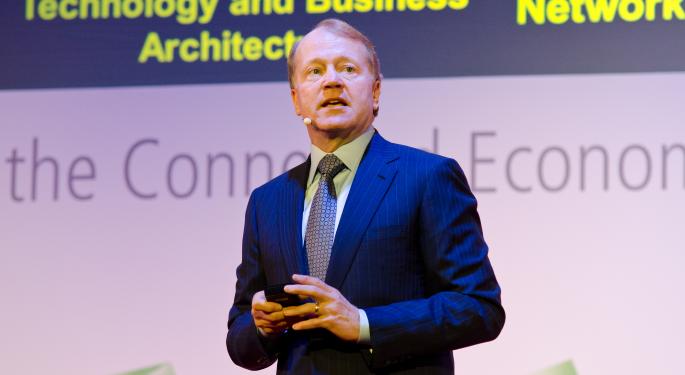 John Chambers, Cisco Systems (NASDAQ: CSCO) Chairman and Chief Executive Officer, appeared on CNBC's Squawk Box Thursday morning after the company's Q3 results came in with an EPS at $0.51 over analyst estimates of $0.49 and revenue at $12.22 billion over analyst estimates of $12.18 billion.
Chambers said that the company's success speaks to Cisco moving from being a communications company to being an IT company. He said that it's their ninth consecutive record quarter in terms of revenues and their sixth record quarter in terms of profits growing faster than revenues. He went on to say that there's a good balance across the bard, and that the U.S. is looking pretty solid in terms of growth. He said that emerging markets also did very well.
Chambers noted that while Cisco faces some unique challenges in China, emerging markets were up 13 percent, and make up a total of 20 percent of their total business.
Chambers said that this is a rapidly chaining market, and Cisco excels at change.
"Our game plan is real simple. When you see these changes start to occur, you get closer to costumers, you transform your business, and if you're an IT company helping your costumers, you transform their business, and you pull away from competitors," said Chambers.
Chambers also said that operations have improved, and that he thinks they're doing very well compared to their peers.
"When you see our data center and cloud grow at 77 percent, we clearly are outperforming the market. The mobile market pale where there used to be small competitors and big competitors that were pretty tough, we grew at 27 percent. In video, we grew at 30 percent," said Chambers.
He continued by saying that they're now helping costumers innovate, moving from a proponents supplier to becoming the number one IT player for many costumers. Chambers said that if they do that, margins will take care of themselves.
"We have a good shot at becoming the number one IT company in the world. That's clearly our goal," said Chambers.
Chambers also talked politics. According to Chambers, the U.S. is missing an opportunity as a country to align business and government goals. He said it's easy to do in many other developed countries, and that tax policy has huge implications on our economy.
"If we're going to compete against Asia as a country, and I think we can. We innovate here faster than any other place in the world, we've gotta get a tax policy that encourages exports. We're a dinosaur in terms of our tax policy. We need to fix that," said Chambers.
Posted-In: Earnings News Movers & Shakers Politics Topics Hot Movers Tech Best of Benzinga
View Comments and Join the Discussion!