A Few Fun Kentucky Derby Facts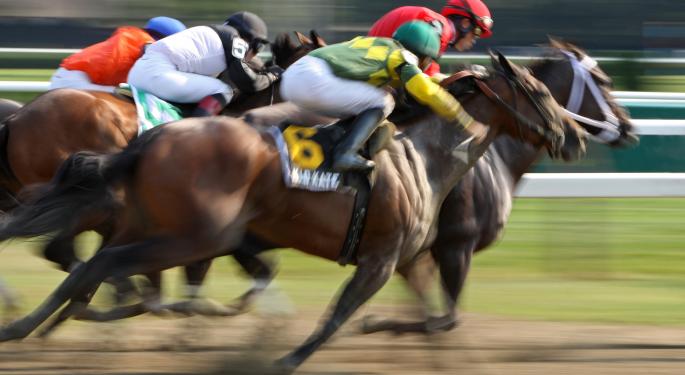 Yes, on Saturday, the 139th running of the Kentucky Derby will take place at Churchill Downs (NASDAQ: CHDN) in where else but Kentucky.
As of Friday afternoon, 19 crazy-expensive thoroughbreds will run for a piece of the $2,199,800 purse with the winner going home with $1,439,800. (Not the horse—the owner.)
In honor of the most famous pony race—at least in America, we threw together a couple of interesting facts that you might find, well—interesting.
You Can Trade Churchill Downs
If it's not on CNBC it must not be publically traded, right? Actually, Churchill Downs trades an average of 58,000 shares per day. (And that, friends, is why CNBC MIGHT mention it the day before derby day.)
Churchill Downs not only owns the famed race track but also three other racetracks, three casinos and the country's largest online wagering business, TwinSpires.com. Add to that a network of off-track betting facilities, race-related data services and telecommunications companies related to gaming operations.
Despite reporting mixed earnings, the stock is up 31 percent in the past year, two percent of that coming on Friday. It "sports" a one percent dividend and hosts the event with the coolest (ok, craziest) hats of any sporting event.
The Jockeys get the Shaft
According to CNBC, A $1.4 million purse means that the jockey (horse term for the short guy with the funny hat riding the horse) doesn't exactly cash in. This isn't football, where the star player is making millions and has a Nike (NYSE: NKE) logo plastered on every visible part of his body.
The winning jockey will make 10 percent of the winnings or $143,900. 25 percent goes to his agent and he has to tip his valet (the guy who cleans the funny hat) five percent. That means he's making about $100,000 before taxes.
If you're the second place jockey, you wind up with $14,000 and the third place, $7,000. After that, you make a couple of hundred bucks and get to tell everybody that you were on network TV.
Seats Are Expensive
Like any premium sporting event, if you want a seat at horse racing's biggest event it's going to cost you. A seat in Millionaires Row, a climate controlled box area full of TVs, expensive food and celebrities will set you back $3,750. (Seems a little cheap if you're a millionaire, doesn't it?) But maybe you don't want the best seat in the house. You can pick up the cheap seats for $200 to $400 or you can head to the infield (watch where you step) for $150.
BONUS- The Contributing Sponsor
That would be Yum! Brands (NYSE: YUM). Why? Because when the rich and famous think of an A list, social event complete with high priced spring dresses and limos, they think of cheap tacos and a bucket of chicken.
Don't miss the three hours of coverage for a two minute event on NBC starting at 4:00 p.m. EST time.
Disclosure: At the time of this writing, Tim Parker had no position in any of the stocks (or horses) listed.
Posted-In: Churchill Downs Nike Yum BrandsCNBC News Events Media General Best of Benzinga
View Comments and Join the Discussion!