Bob Lutz On Leadership, Auto Sales And Manufacturing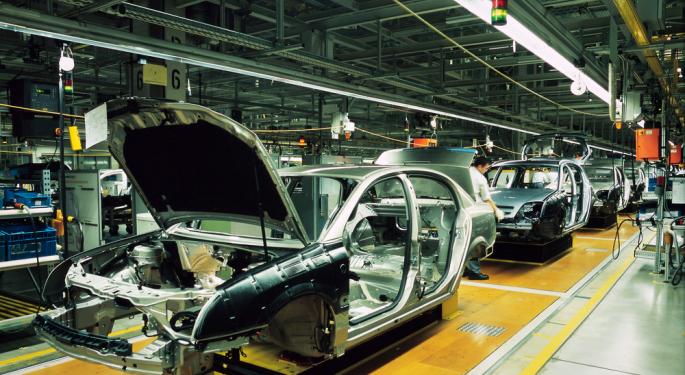 Robert Lutz, former General Motors (NYSE: GM) vice chairman, appeared on CNBC Friday morning to talk auto sales, manufacturing and to promote his new book Icons and Idiots.
Lutz talked about auto sales with good spirits.
"The sales numbers look good, but the economy doesn't, and that was before the numbers came out, but it is the feeling I think of most economists in the car business that in all the detailed data their looking at, all of the leading indicators that the economy is improving, that consumer confidence is up, that people are in the mood to buy durable goods," said Lutz.
"And so I think for those of us that follow it closely, it comes as no surprise. And I think it's gonna continue improving gradually, and I think all of us like a gradually improvement far better than we do sharp spikes followed by drops."
Lutz said that by and large, the manufacturing sector in the United States is doing better than it has in years.
"That will continue as long as we don't get an overly weak Japanese yen," said Lutz.
"If we get an overly weak Japanese yen, American manufacturing is in trouble again."
Lutz's book, Icons and Idiots, is focused on the condition of successful leaders being mentally and emotionally askew in a range of controlling, and sometimes temper-driven personality variances. Lutz went into the deeper meaning of the title during the interview.
"Strong leadership personalities are rarely nice, well-balanced, calm, reasonable people. They're always, you know, slightly off the wall. And I think you have to take the good with the bad. So when I say Icons and Idiots, I don't mean some are icons and some are idiots, I think every strong leader is probably a little bit of both, and if he weren't, if he or she weren't, slightly unbalanced like that, they probably wouldn't be doing the job for the shareholders," said Lutz.
Lutz went on to note that good leaders would have a difficult time navigating the democratic process.
"Dictators are never normal people and they never could've been elected, and you see the same thing in corporations with people like Steve Jobs, with who, if he hadn't ben the founder, he never would've been CEO of Apple (NASDAQ: AAPL)," said Lutz.
Despite some leaders' personalities leaning towards a more aggressive side of the emotional spectrum, Lutz knows that there's much to be gained from their example and intellect.
"Some of the most valuable lessons in my life were learned from people that I least liked to work for," said Lutz.
Posted-In: Bob Lutz CNBCCNBC News Topics Hot Media General Best of Benzinga
View Comments and Join the Discussion!