Golden Arches Across The World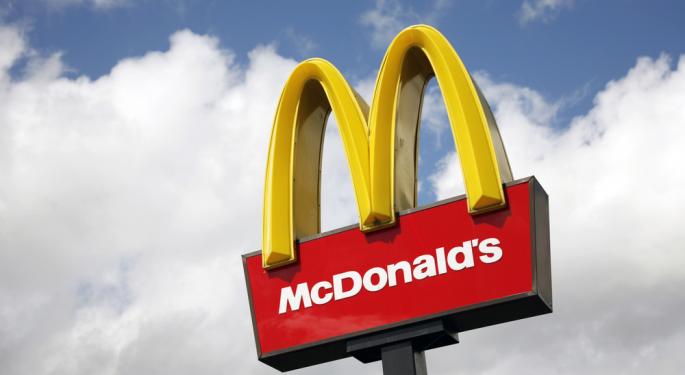 McDonald's (NYSE: MCD) CEO Don Thompson spoke exclusively on CNBC's Squawk on the Street Friday morning about the state of the fast-food giant and its position in various markets around the globe.
In the U.S., McDonald's sales show a level of infrequency in relation to hopes of an economic recovery.
"At McDonalds' we are seeing some faint signs at times like late-night hours, breakfast, at times we'll see some resurgence there, but again, it's been a little bit of a mixed bag based upon the cycles within what we've seen across the last year," said Thompson.
In Europe, there are obviously struggles in many countries, but Thompson was quick to say that Europe can't be looked at as a whole.
"The U.K. for us, Russia, have been fairly strong markets, but across Europe, you've got a bit of a mixed bag. We don't see that changing economically anytime soon," said Thompson.
In China, business is growing, despite bird flu scares.
"I think China's still a tremendous growth opportunity for us at McDonald's. We have about, last year we opened up about [250] restaurants. You know, our goal is to be somewhere in the 1,700 range, or 2,000 range, actually, by the end of the year," said Thompson.
The drive-thru, due to increased auto sales, are all the rage in China. This is a big reason for growth there as McDonald's continues to reach the mouths and hearts of Chinese citizens.
"For us to be successful as McDonalds, we've got to be excited. We've have to be innovative, we've got to bring new food news. It's got to be relevant food. In our global pipeline there's over 160 products," said Thompson.
Foods that originate in different countries also move onto the U.S. menu at McDonald's. There's often a lot of sharing between menu items and their variations, which help shape each market's respective menus. But Thompson didn't feel like McDonald's brought enough energy to their home market in the U.S. last year, saying hay he didn't think they addressed enough consumer needs on the U.S. menu.
McDonald's extended themselves in recent years, reaching out to healthier options as they work to keep pace with the changing culture around food, specially organics and other health-centric options. Egg white breakfast sandwiches, smoothies, and other healthier options have proven to be very popular with the breakfast crowd. Thompson teased of even more new breakfast news in the future.
McDonald's delivers news in new ways these days, with stronger marketing and engagement this year according to Thompson. The company has taken to social media to better understand their millennial costumer-base.
Most companies are vulnerable to change, especially cultural-shifts like what's being brought on by millennial thinking. Thus, McWraps are targeted towards millennials as a healthier, untraditional option. Going hand-in-hand with an increased presence on social media and menu transformations in recent years, Thompson said that McDonalds also has an increased presence at many popular music festivals.
He said that McDonald's is also interested in branching out into mobile applications, admitting that they're somewhat late to the game.
Thompson also commented on doing well with coffee products, which are offered all day and compete with companies like Starbucks (NASDAQ: SBUX). In the caffeine game, Thompson noted that McDonald's sells more drip coffee than anyone in the U.S..
Thompson also wants to step up their game in costumer service, saying that even one unsatisfied costumer is too many. Some changes in costumer options that'll help McDonald's service image include introducing home and office delivery, like Burger King (NYSE: BKW), and the consideration of serving breakfast all day long, as they do in some markets around the world.
In addition to pressing forward with healthier menu innovations and better ties with millennials, McDonald's is also pushing forward with other menu items that directly compete with other fast-food restaurant menus. An example of this would be "Mighty Wings," a fried chicken option that might take business away from fast-food restaurants that offer fried chicken as a signature dish.
"This year's menu is innovative and new. It is exciting," said Thompson.
Posted-In: CNBC News Jim Cramer Topics Restaurants Global Hot Media Best of Benzinga
View Comments and Join the Discussion!