Carnival: Triumph Disaster Will Hurt Earnings 8-10 Cents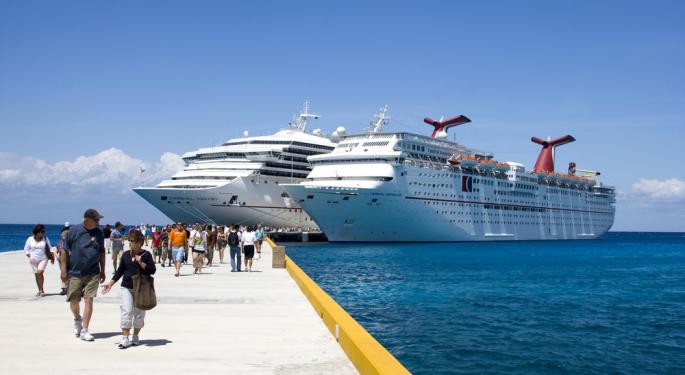 The Carnival (NYSE: CCL) Triumph is in a Mobile, Alabama where it will undergo repairs. But for the company, the fallout from an incident that some describe as "a floating toilet" has to be contained quickly.
When news first broke of the ship experiencing a fire in the engine room causing it to be adrift, it wasn't much of a story. Benzinga first covered it here but by Thursday, when the ship was towed to port, networks like CNBC reported live from the port all day. It was breaking news once the ship arrived and the media instantly went to work interviewing any passenger willing to talk.
Pictures from passengers' cell phones quickly went viral and for Carnival, a company still recovering from the PR damage caused by the Costa Concordia disaster, it wasn't the press it wanted.
Then, not 24 hours after the ship had docked, the first lawsuit was filed. Cassie Terry, a passenger from Brazoria County, Texas filed a lawsuit in Miami, Florida citing fear of contracting serious illness, according to Reuters.
But for Terry, and other passengers aboard the Triumph, taking the $500, refund on their cruise, a voucher for another cruise, and transportation costs to get home—the compensation offered by Carnival—may be their best course of action.
When a passenger purchases a ticket, they sign away most of their rights to sue. According to a CBS affiliate (NYSE: CBS) that examined the terms of the contract, Carnival states that it will not be responsible for emotional distress, mental suffering, or psychological injury under any circumstances.
Contracts often state that an arbitrator, who may be selected by the cruise company, settles litigation and all litigation must be filed in one court regardless of where the plaintiff lives.
What does all of that translate to for the passengers of the Triumph? Miriam Lebental, an attorney specializing in cruise ship injuries says, "Get over it." Since there were no serious injuries reported, the concessions offered by Carnival might be more than any attorney can recover.
But does that mean Carnival will come away unscathed? The court of public opinion is already in session and according to CNN, Carnival has to act fast. Its financial offer to passengers is a good first step but the company has to show that it is taking steps to learn from the incident. How will it keep another cruise from turning into a floating toilet in the future?
No excuses, say PR experts. Just acknowledgement and a commitment to make future cruises safer for all passengers.
So far, the damage to its stock is minimal. Carnival is only down about 4 percent since the incident and with images and bad press quickly dropping off, the worst is likely behind it. In a company press release, Carnival estimated that repair costs and voyage disruptions will result in an EPS reduction of 8 to 10 cents per share.
Posted-In: carnival CBS CNBCNews Events Media Best of Benzinga
View Comments and Join the Discussion!