Shiller Says Investors Should Buy Farmland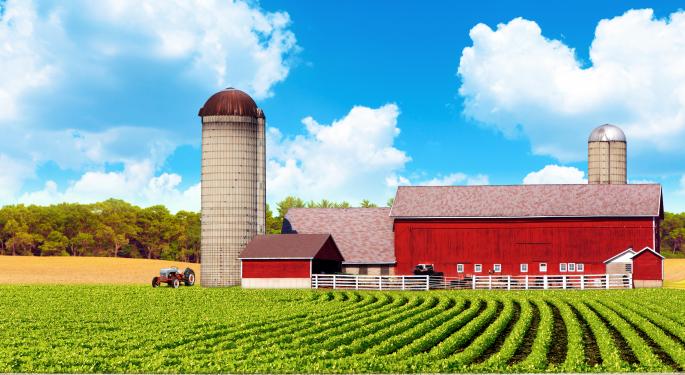 Yale Economics professor Robert Shiller told CNBC Monday that investors should put their money into stocks or farmland. Stocks, OK, but … farmland?
Turns out the respected co-founder of the Case-Shiller Home Price Index may be on to something.
"The CME futures market has [home prices] increasing 1 to 2 percent, in real terms, for the next 5 years," Shiller said, but added that prices could just as easily drop by that amount.
According to Shiller, farm prices have risen over 20 percent in the past year. Shiller said rent of farmland is up, mostly due to the growing importance of biofuels, made from corn, along with plastics and other products derived from commodities like corn and soybeans.
Shiller also pointed out recent news of a worldwide food shortage, which he says taken together with other factors all conspire to drive up farmland prices.
He did suggest that farmland might be nearing a bubble, but said so many factors come into play that it is impossible to tell at this point.
Shiller is not alone in his opinion about the growing value of farmland. Farmland LP, a private equity fund that acquires conventional farmland and converts it to certified organic use points out that farmland averaged 11.9 percent total annual return between 1970 and 2000, with 6.4 percent from appreciation and 5.5 percent from operating income.
So, if investors are leery of housing but still have an interest in real estate, how can they invest in farmland?
As Shiller pointed out during the CNBC interview, there is no Farmland ETF yet – so what is there?
First, there is Cresud Sociedad Anónima (NASDAQ: CRESY) an agricultural company, engaged in the production of basic agricultural commodities in Brazil and other Latin American countries. The company also engages in the acquisition of land reserves for development or sale. Cresud closed at $9.03 down 0.77 percent on Monday and pays a 5.3 percent dividend.
Adecoagro S.A. (NYSE: AGRO) operates as an agricultural company in South America. It engages in planting, harvesting and selling grains, oilseeds, rice, wheat, corn, soybeans, cotton and sunflowers to grain traders. Further, the company is involved in the identification, acquisition and disposition of farmlands. Shares of Adecoagro ended the day Monday at $8.54, up 0.47 percent.
Cosan Ltd. (NYSE: CZZ) engages in the energy, food, logistics, infrastructure and farmland development and management businesses primarily in Brazil, Europe, Latin America, the Middle East, Asia and North America. Further, the company is involved in agricultural land and other investment activities. Cosan finished at $20.35, down nearly one percent.
Finally, although not a farmland ETF, Market Vectors Global Agribusiness ETF (NYSE: MOO) has among its holdings Deere (NYSE: DE), Monsanto (NYSE: MON), and Mosaic (NYSE: MOS). All of these names are affected by the economics of the farming business including farmland prices.
View Comments and Join the Discussion!
Posted-In: CNBC Cosan Deere FarmlandLong Ideas News Media Trading Ideas Best of Benzinga