This Fast Food Stock May Be Your Chipotle Replacement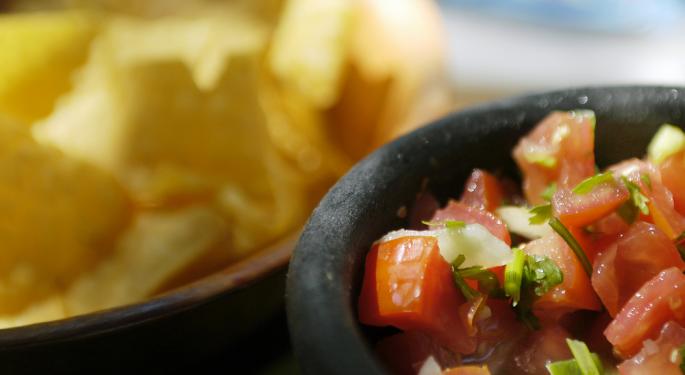 Shares of Chipotle Mexican Grill (NYSE: CMG) fell 5.5 percent Wednesday to $280.94. The company reported preliminary fourth quarter figures that were well below analyst estimates.
Inside the numbers, Chipotle expects sales to increase 3.8 percent, but operating margins to fall 150 basis points year-over-year to 24.6 percent.
This is due, in part, to an anticipated 130 basis-point increase in the cost of food, mostly chicken and beef, which the company expects will eat up 33.5 percent of sales. This will lead to an increase in menu prices, according to a report in the Wall Street Journal.
Unlike other fast food chains, Chipotle can't lock in prices for the antibiotic-free meats and organic ingredients used in its menu offerings, as Reuters notes.
In sharp contrast to Chipotle, Wendy's (NASDAQ: WEN) CEO Emil Brolick told CNBC's "Closing Bell" Wednesday that food prices for his company are expected to be manageable this year and Wendy's doesn't expect to have to raise menu prices much.
Brolick said, "In 2012, we basically saw a 90 basis point increase in commodities," adding that the outlook for 2013 called for something in the area of 90 to 120 basis points, which he referred to as "a manageable increase."
Wendy's is up more than 6 percent in the past month.
Chipotle stock, which once traded above $440, is now finding resistance around $300. On Wednesday, Chipotle broke its 50-day moving average with high volume. That could make the next stop for the stock $260 -- its late November low.
Although Chipotle has erased its price-to-perfection multiple of near 60 times earnings, with more reports of rising costs that may slow growth, its forward PE of 27 may still be too high compared to Panera's (NASDAQ: PNRA) PE of 23.
Can Chipotle turn its troubles around? Borrowing a page from the playbook of Panera, the Denver-based chain announced a catering service that will be available in Colorado starting Monday, January 21.
Chipotle says its catering service will allow groups of 20 to 200 to customize their own individual meal the same way they do at Chipotle restaurants. The company indicated it would add catering to all of its markets in the coming months.
Catering is a substantial revenue driver for Panera but can it do for Chipotle what it did for Panera?
In comparison with Chipotle's 5.5 percent slide Wednesday, Wendy's shares were up 3.67 percent at 5.08, and both McDonald's (NYSE: MCD) and Yum Brands (NYSE: YUM), parent company of Taco Bell, Pizza Hut, and KFC, was down a fraction of a percent Wednesday.
Posted-In: CNBC Earnings News Guidance Movers Media Trading Ideas Best of Benzinga
View Comments and Join the Discussion!