Buffett's Problem: Too Much Cash, Too Few Targets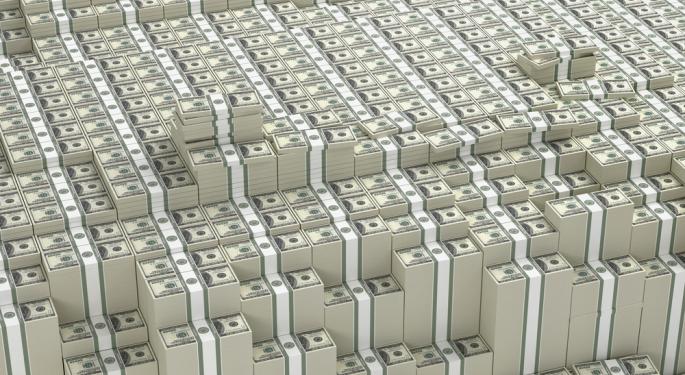 Berkshire Hathaway (NYSE: BRK-A, BRK-B) CEO Warren Buffett has a problem that everyone would like to have. Berkshire, the financial services conglomerate, has $40 billion in cash and generates $1 billion a month in free cash flow, according to Bloomberg.
In a CNBC interview Wednesday, Buffett said he is "salivating" for another big acquisition. Problem is with as much as $40 billion to put to work, Buffett needs to find good value. Additionally, bolt-on acquisitions even in the sub-$10 billion range may not make much sense for Berkshire, a company with business lines ranging from Dairy Queen to insurance to office furniture to railroads.
To date, Berkshire's largest acquisition remains the 2010 purchase of Burlington Northern railroad for $26.5 billion. In other words, Buffett is not afraid to pull the trigger on a big deal. Past action and recent comments indicate as much. The issue is not just any company fits Buffett's criteria.
Buffett typically looks for debt-free, consistent earnings growers with solid returns on equity. Another issue is that as a value investor, Buffett is not going to overpay for a deal. With the SPDR S&P 500 (NYSE: SPY) up almost 13 percent this year, stock prices are elevated and U.S. equities are richly valued compared to emerging markets fare.
Still, Buffett could make a big purchase and do so soon. Here are some possible candidates.
Deere (NYSE: DE) The farm equipment giant has already been mentioned as a possible Berkshire target, though the premium needed to acquire a $33.3 billion company could sap Berkshire's war chest. Another sticking point could be that Deere is not debt free. It has a long-term debt/equity ratio of 2.86.
In its favor, Deere is the dominant name in a prosaic business Buffett can easily understand. Plus, the stock trades for less than 10.3 times next year's earnings and has a return on equity of almost 41 percent for the trailing 12 months.
Joy Global (NYSE: JOY) Another heavy equipment manufacturer, but in the case of Joy Global, Berkshire could swallow the Wisconsin-based mining equipment firm whole and still have plenty of cash left year. As coal prices and equities have plunged this year, Joy Global's market capitalization has been trimmed to just $6.4 billion.
The company has been mentioned as a possible takeover target in the past, both for Berkshire and General Electric (NYSE: GE). However, coal demand slowing in the U.S. due to low natural gas prices and in emerging markets due to disappointing economic growth, some suitors may not want heavy coal exposure at this time. Berkshire is already levered to the coal trade through Burlington Northern.
Discover Financial Services (NYSE: DFS) There are a few of obvious issues here. First, the stock has surged more than 66 percent this year. Second, Berkshire's equity portfolio is already heavy on credit card firms, including American Express (NYSE: AXP) and Mastercard (NYSE: MA). Third, if there is such thing as a wide moat in the credit card industry, Discover does not have it and Buffett loves wide moat businesses.
Conversely, Discover's financial position is attractive enough that company has been mentioned as a candidate for a dividend increase and as a takeover target. Discover's trailing 12-month return on equity is almost 27 percent.
Posted-In: Long Ideas News Short Ideas Rumors Movers & Shakers M&A Events Intraday Update Best of Benzinga
View Comments and Join the Discussion!