Barron's Recap: Why Alibaba Could Plunge Another 50%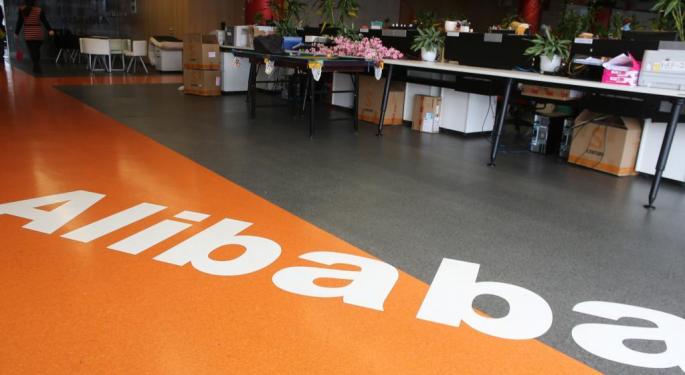 This weekend in Barron's online: the outlook for Alibaba, new iPhone leasing plans, the end of quantitative easing, as well as the prospects for Infineon, Supervalu, Diamond Resorts and more.
Cover Story
"Alibaba: Why It Could Fall 50% Further" by Jonathan R. Laing.
Jack Ma dazzled Wall Street with big growth plans for Chinese Internet giant stock Alibaba Group Holding Ltd (NYSE: BABA), says this week's cover story in Barron's. But shares of have tumbled as China's economy slows and competition heats up. See why Barron's thinks there will be more trouble ahead.
See also: David Tepper Dishes On Apple, Alibaba And China's 'Learning Curve'
Feature Stories
In "Apple's New iPhone Plan Could Lift Shares 50%," Alexander Eule reveals why a move to lease phones and offer annual upgrades could prove lucrative for Apple Inc. (NASDAQ: AAPL) and how it could put the company in competition with wireless carriers.
"A Hot Rod Priced Like a Hatchback" by Jack Hough makes a case that German chip maker Infineon is insulated from the headwinds that face other semiconductor makers, thanks to its focus on fast-growing areas such as automobiles.
Robin Goldwyn Blumenthal's "Supervalu Could Deliver for Investors" takes a look at how a possible spin-off of the grocery wholesaler and retailer's lucrative Save-A-Lot discount chain could help lift SUPERVALU INC. (NYSE: SVU) shares as much as 50 percent.
Aston/Fairpointe Mid Cap fund manager Thyra Zerhusen is profiled in "Not Playing Around" by Lawrence C. Strauss. See why Zerhusen is not giving up on beaten-down Mattel, Inc. (NASDAQ: MAT), even though others have. She also shares some of her other picks.
In Andrew Bary's "The Wisdom of a Stock-Market Nonconformist," Loews chief investment strategist Joe Rosenberg is interviewed. He offers his views on oil prices, auto stocks, bonds, China and more. Rosenberg also names some of his current picks.
See "Diamond Resorts Is a Swell Destination for Investors," in which David Englander shows how Las Vegas–based Diamond Resorts International Inc (NYSE: DRII) is a bargain among its time-share peers, and that it has plenty of opportunities for growth.
Can the Federal Reserve run down its huge security portfolio without causing problems for monetary policy? That is what Jim Kudlinski, former Fed insider, explores in his article "How Will the Fed Reverse Quantitative Easing?"
In "A Risk-Averse Strategy Pays Off for Top Advisor," Steve Garmhausen features leading Barron's advisor Roger Wade of GW & Wade, who does not take big risks. See why Wade's clients can thank him for his very conservative approach this year.
Penta article "The $100,000 Hedge Fund Slice" by Robert Milburn discusses new investment platforms that allow investors with a portfolio of $5 million or more the opportunity to get in on first-rate alternative investments.
"Monetizing Higher Education" is an editorial commentary by Thomas G. Donlan in which he ponders whether investors can replace government lenders.
Follow-up article "Meredith Purchase Will Boost Media General Cash Flows" suggests that the tepid response of investors misreads the potential is this broadcasting hookup. Federal prosecutors have charged a promoter of Chinese stock deals with fraud and money-laundering.
In Barron's Asia: "Beijing Plugs Holes as Great Wall of Credit Leaks" by Wayne Arnold examines the crack down by Chinese authorities on capital leaving the country, particularly to China's biggest trading partners, like Japan, Taiwan and the United States. Up to $164 billion exited the nation in August.
See also: Crowdfunded Real Estate And Why Shanghai Will Become The Financial Hub Of The World
Columns
Columns in this weekend's Barron's discuss:
Why the Fed should delay rate hikes
Which value stocks are set to outperform
Whether it is too soon to buy bargain chip stocks
New graphical interfaces of financial websites
How rising interest rates affect value stocks
Smarter ETF trading
The quiet week for dividend hikes
At the time of this writing, the author had no position in the mentioned equities.
Keep up with all the latest breaking news and trading ideas by following Benzinga on Twitter.
View Comments and Join the Discussion!
Posted-In: Alibaba Apple Barron's China Diamond Resorts InfineonTop Stories Media Best of Benzinga