Barron's Recap: What's Next?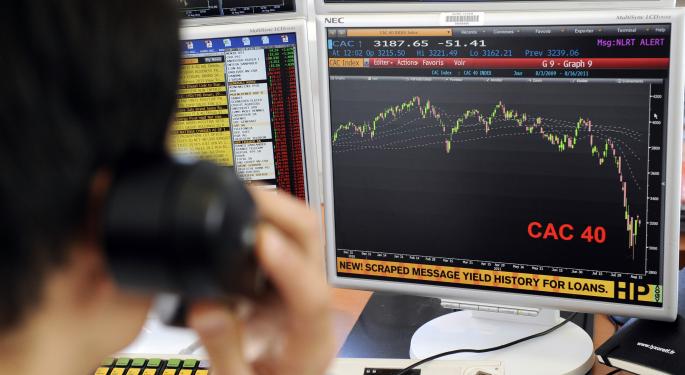 This weekend in Barron's online: bargains galore after the sell-off, more turmoil ahead China and Asia, as well as the prospects for PayPal and more.
Cover Story
"Bargains Beckon as U.S. Stocks Bottom" by Andrew Bary.
After last week's market sell-off and rebound, the worst may be over, says this week's cover story in Barron's. See why stocks of above-average dividend payers, which have lagged behind high-growth stocks this year, may be the place to look next. Companies such as General Electric Company (NYSE: GE), JPMorgan Chase & Co. (NYSE: JPM) and Merck & Co., Inc. (NYSE: MRK) now offer value plus income.
While some may argue that the market recovery has been too neat and that it is hewing too closely to the script put forth by many strategists that called for a quick and brisk bounce-back, see why Barron's feels there was a good reason for the snapback.
See also: Tesla Secures Lithium Suppliers For GigaFactory
Feature Stories
In "China's Market Has Another 15% to Fall," Daniel Shane reveals why strategists see the Shanghai Composite falling to around 2,700 before bottoming out, even after the index fell 8 percent last week, despite regaining some ground on Thursday and Friday.
"Bargains: Four Stocks Unfairly Pummeled" by Jack Hough takes a look at American Airlines Group Inc (NASDAQ: AAL), CA, Inc. (NASDAQ: CA), Coach Inc (NYSE: COH) and PACCAR Inc (NASDAQ: PCAR), shares of which are cheap. All four pay dividends, too.
Avi Salzman's "U.S.-Focused Growth Stocks Could Be Leaders" points out that momentum stocks can falter after volatility rises sharply. See why stocks in health care and housing now could be ready to produce outsized returns.
Swiss hedge fund manager Felix Zulauf expects China's yuan to lose up to 30 percent of its value, according to "Markets Falling Further" by Lauren R. Rublin. See why that could lead to more turmoil for stocks and a possible banking crisis in Asia.
In Jack Willoughby's "PayPal Is a Bet on the Digital Wallet," see why even though shares of former eBay unit Paypal Holdings Inc (NASDAQ: PYPL) have dropped since the recent spinoff, the company still has plenty of opportunities and cash to grow.
Check out "How One Hedge Fund Reaped an August Gain," in which Sandra Ward shows how Denver-based Crescat Capital's Global Macro fund prospered by shorting Chinese shares while snapping up sliding digital stocks like Apple Inc. (NASDAQ: AAPL).
Raymond James advisor Van Pearcy offers his best advice in Steve Garmhausen's "Returns of the Native." Find out how he has thrived serving the ranchers, farmers and others in his native Texas, as well as why he likes alternative investments.
Penta article "How American Century Finances Science" by Robert Milburn examines how the legacy of the founding Stowers family supports a research institute in Kansas City. Check out this example of using IRS regulations to do good.
"Chinese Puzzle" is an editorial commentary by Thomas G. Donlan in which he suggests that China, Europe and the United States all have the same problem -- too much planning.
Follow-up article "Despite Run-Up, Google Shares Still Have 20% Upside" suggests that a boost in revenue growth and higher margins from cost cutting should goose shares of Google Inc (NASDAQ: GOOGL). Also, did tougher bank regulations help fuel the market carnage?
In Barron's Asia: "Beijing Saves, but Stocks Score on the Rebound" by Wayne Arnold indicates that Asia markets were pummeled as China stocks dived to an eight-month low. The article offers five bargains to buy now.
See also: Why China Isn't Killing Alibaba
Columns
Columns in this weekend's Barron's discuss:
Bonds that took big hits too
How treasuries failed to benefit from "flight to quality"
Whether the S&P 500 still can hit 3,000 by decade's end
Tim Cook's e-mail to Jim Cramer about business in China
How hedge funds limited their losses
The harsh lessons for ETF investors
How much U.S. GDP could rise into 2016
At the time of this writing, the author had no position in the mentioned equities.
Keep up with all the latest breaking news and trading ideas by following Benzinga on Twitter.
View Comments and Join the Discussion!
Posted-In: American Airlines Apple Barron's CAPreviews Top Stories Media Trading Ideas Best of Benzinga