Barron's Recap: J.P. Morgan Is Back On Top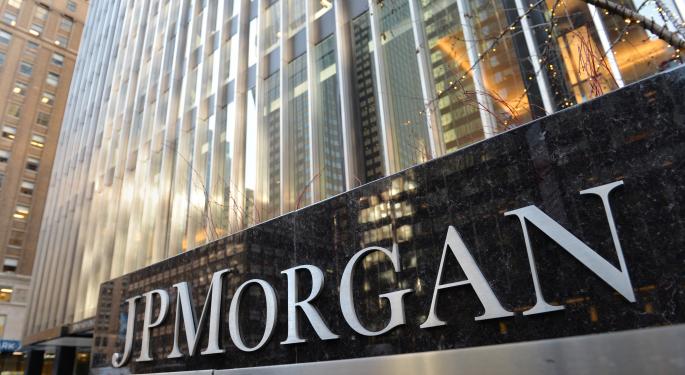 This weekend in Barron's online: the rise of J.P. Morgan, auction-rate securities stuck in limbo, as well as the prospects for HD Supply, Smucker, Hasbro, Urban Outfitters and more.
Cover Story
"JPMorgan Rising" by Andrew Bary.
J.P. Morgan came out of the banking crisis stronger, according to this week's Barron's cover story. After more than five years of regulatory tumult, it is now the number one U.S. bank in assets and investment banking. Shares may not have caught up yet, but see why they could rise 30 percent in the next year, not including the 2.9 percent yield.
Barron's finds out what is on CEO Jamie Dimon's mind and offers predictions for J.P. Morgan ahead.
See also: JPMorgan Talking Worst Of Apple Watch 'Yield Issues'
Feature Stories
"HD Supply Has Upside of 30% or More" by Jack Hough offers a look at one of the country's largest wholesalers of commercial building supplies. See why the wind could be at the back of HD Supply Holdings Inc (NYSE: HDS) as it rolls up competitors and pays down debt.
Jacqueline Doherty's "Auction-Rate Securities: Still Frozen in Time" points out that the credit crisis locked up auction-rate securities seven years ago, and yet some $50 billion of those securities are still in limbo. Find out why they could stay that way for a while.
In "Smucker Chases the Power of Pets," Robin Goldwyn Blumenthal takes a look at how this packaged-foods company is barking up the right tree by acquiring Big Heart, a fast-growing seller of pet foods. The deal could boost both earnings and shares at J M Smucker Co (NYSE: SJM).
W. Earle Dodd, grandnephew of pioneering value investor David Dodd, offers his best advice in "Dodd's Dozen" by Steve Garmhausen. See how Dodd helps a small number of institutions pick managers and cope with low-yielding times, and why lately he has been emphasizing equities.
Check out "Lucerne Capital Fund's Bet on Europe" by Michael Shari for a profile of hedge fund managers Pieter Taselaar and Thijs Hovers of Lucerne Capital. The article explores the good opportunities they see now among European mid-cap stocks.
In Bill Alpert's "The Best Bets of a Stellar Short Seller," Mark Roberts is interviewed. Find out why the founder of short-selling specialist Off Wall Street Consulting Group is betting that DealerTrack Technologies Inc (NASDAQ: TRAK) will fall and Crown Holdings Crown Holdings, Inc. (NYSE: CCK) will rise.
An exclusive look at one-of-a-kind watch is the focus of Penta article "First Dibs at a Coveted IWC Watch" by Richard C. Morais. The unique chronograph dress watch will be auctioned off for the benefit of the Tribeca Film Institute and a promising filmmaker.
"For Now, Hasbro Looks Like a Keeper" follows up on earlier Barron's articles and suggests that it may be too soon to take profits in Hasbro, Inc. (NASDAQ: HAS) and that it may be time for caution when it comes to Urban Outfitters, Inc. (NASDAQ: URBN).
In Barron's Asia: "Profit Growth Shrivels for China's Big Four Banks" by Isabella Zhong discusses how bad loans and narrowing interest are weighing on bank profits. Discover which of China's big banks may hold up better than peers.
"A Tale of Two Powers" is an editorial commentary by Thomas G. Donlan that suggests China has housed more people in a shorter time than the United States has.
See also: 10 Oppenheimer Analysts Each Pick A Top Stock
Columns
Columns in this weekend's Barron's discuss:
The significance of the Kraft-Heinz deal
The rocky markets and the outlook for GDP
The stock buyback lull as a buying opportunity
How the strong dollar weighs on semiconductor makers
A quick and easy way to calculate discounted cash flows
Roaming without data charges
Where the assets are in hedge funds
The trouble with oil ETFs
The slow rise of inflation
A record first quarter for dividends
Casinos, Congress and online gambling
At the time of this writing, the author had no position in the mentioned equities.
Keep up with all the latest breaking news and trading ideas by following Benzinga on Twitter.
View Comments and Join the Discussion!
Posted-In: Barron's crown holdings dealertrack hasbro HD SupplyTop Stories Media Trading Ideas Best of Benzinga