Barron's Recap: Yale Sets Up Shop In Asia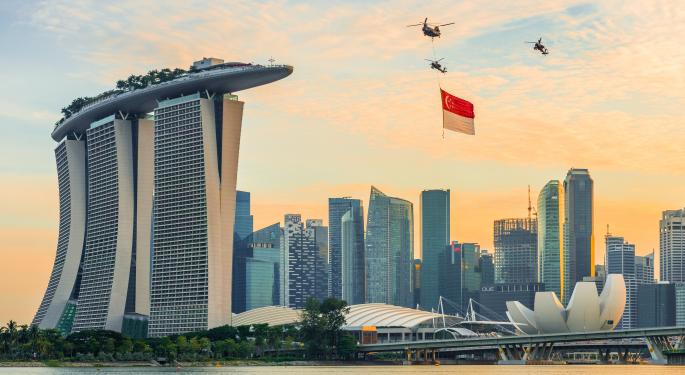 This weekend in Barron's online: Yale goes to Singapore, Barron's 20th annual broker survey, as well as the prospects for sovereign funds, Bank of New York Mellon, Dillard's, Foot Locker, Whirlpool, Century Communities and more.
Cover Story
"Yale Goes To Asia" by Leslie P. Norton.
Can a first-class Ivy League education be exported, asks this week's Barron's cover story. Yale has started a new undergraduate university in Singapore to help shape the next generation of Asia's business and government leaders. Could the new school be better than the old? See why the move is drawing criticism. How long before other U.S. colleges look to establish operations in Asia?
See also: Has Apple Really 'Entered Its Graveyard' By Going Into Dow Jones?
Feature Stories
"Revving Up the Money Machine" by Jack Willoughby says that Bank of New York Mellon Corp (NYSE: BK) is cutting expenses while boosting revenue, under the watchful eye of activist investors such as Nelson Peltz. Why Barron's expects more upside for the shares.
Jacqueline Doherty's "Danger Ahead for Dillard's Shares?" suggests that shares of Dillard's, Inc. (NYSE: DDS) could sell off if spending slows in the company's key markets. See why a real estate investment trust (REIT) conversion is unlikely.
In "Sovereign Funds Retain Power, Despite Oil's Fall," Craig Mellow takes a look at why, with $7 trillion in assets -- twice the size of all hedge funds combined -- sovereign funds have a big impact on markets. That will not change because of low oil prices, Barron's argues.
Foot Locker, Inc. (NYSE: FL) could see a 20 percent gain in its stock return over the next year, according to Jack Hough's "Foot Locker: Still Running Fast." That is thanks to the growth in casual wear, store remodeling and improvement in Europe.
See special report "Barron's 2015 Best Online Broker Ranking" by Theresa W. Carey to find out who came out on top in Barron's 20th annual broker survey. Also discover why data security was an overriding concern this time. Includes profiles of the brokers in the survey.
In Daren Fonda's "Momentum Riders," Leuthold Core Investment chief investment officer Doug Ramsey is profiled. Check out why Ramsey thinks stocks could soon retreat up to 30 percent, and yet he has not gone in search of safety.
J.P. Morgan fund manager Jonathan Simon is interviewed in "A JPMorgan Value Fund Embraces Growth" by Lawrence C. Strauss. In the article, Simon shares why he currently favors Best Buy and Dish Network rather than Apple or Tesla.
In "Jeff Fettig: Doing the World's Laundry," Crystal Kim turns the CEO spotlight on the leader of Whirlpool Corporation (NYSE: WHR). See how Whirlpool is winning awards and bringing jobs back home from overseas.
"Century Communities: A Builder Worth a Bet" by David Englander points out that homebuilder Century Communities, Inc (NYSE: CCS) has a sound plan for growth. Also see why disappointing Bob Evans still looks tasty.
Check out "Apple Joins Dow; Will Berkshire, Wells Fargo Be Next?" which points out that had Apple Inc. (NASDAQ: AAPL) been added to the Dow last June, when it split its stock, the venerable industrial average probably would be 220 points higher than Friday's close.
"Profit Is the Price of Progress" is an editorial commentary by Thomas G. Donlan that discusses turning back to corporate science to fight the threat of antibiotic-resistant germs.
Barron's Letter From the Editor, "Barron's Now on Android" by Edwin A. Finn Jr., announces that the Barron's Android app is now available on smartphones and tablets.
See also: What Is Causing Tesla's Slump?
Columns
Columns in this weekend's Barron's discuss:
The growing threat of higher interest rates
What is triggering pullbacks in the market
Looking for the next "profit recession"
Why the IRS likely will cause big headaches for taxpayers this year
What grabbed attention at this year's Mobile World Congress
Three good dividend funds
Exchange traded funds for getting returns on liquidity
The outlook for dividend hikes from the big banks
At the time of this writing, the author had no position in the mentioned equities.
Keep up with all the latest breaking news and trading ideas by following Benzinga on Twitter.
View Comments and Join the Discussion!
Posted-In: Apple Bank of New York Mellon Barron's Century Communities Dillard's foot locker WhirlpoolMedia Best of Benzinga