Barron's Recap: Top 10 Takeover Targets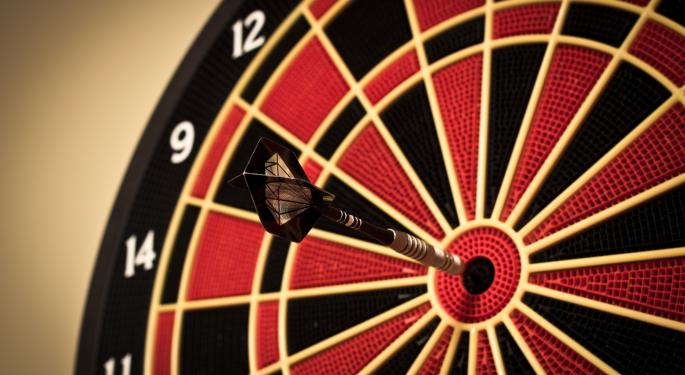 This weekend in Barron's online: how to play the merger boom, as well as the prospects for Time Inc., Global Brass & Copper, Barnes & Noble and more.
Cover Story
"Top 10 Ways to Play M&A" by Jack Hough.
Mergers are at near-record levels, says this week's cover story in Barron's, and all signs point to more on the way. A >Barron's search for promising merger candidates turned up 10 names.
The article points out that value of deals done or pending so far this year is up 56 percent from last year and marks the largest dollar amount for deals since the same period in 2007. Jumbo deals in particular are making a comeback.
See the reasons why the rise in mergers and acquisitions is likely to continue. See which deals have been the biggest so far this year, and which sectors are seeing the most M&A action.
And the article offers a look at 10 companies that are priced right for a takeover, including AMC Networks (NYSE: AMCX), Kohl's (NYSE: KSS) and Xerox (NYSE: XRX).
See also: J.C. Parets Of Eagle Bay Capital Talks Momentum Stocks -- Why A Market Correction Is Already Underway
Feature Stories
Andrew Bary's "Time Inc.'s Prospects Make for Good Reading" takes a look at the magazine publisher that soon will be spun off from its parent, Time Warner (NYSE: TWX). See why it could be in a position to return increasing amounts of cash to shareholders.
"Global Brass & Copper Is Polishing Up Its Act" by David Englander makes the case that shares of metals maker Global Brass & Copper (NYSE: BRSS) could rally as the housing market improves, even if it trades at a discount to its peers.
In "Seven Value Stocks in a Pricey Market," Jonathan Buck discuses some favorites of value managers who spoke at last week's London Value Investor Conference, including Chubb, Zoetis and Bank of China. See which others were also named.
Beleaguered bookseller Barnes & Noble (NYSE: BKS) is misunderstood, according to Andrew Bary's "Book Value." See how the company is flexing its muscle on college campuses, and what it might take to send its shares soaring.
"Restocking Small-Caps" by Michael Shari offers a profile of Mario Cibelli, who runs Marathon Partners. See how Cibelli took advantage of the recent meltdown to build his positions in World Wrestling Entertainment (NYSE: WWE) and others.
In Lawrence C. Strauss's "Surprise! The Fed Will Have to Reverse Course," MacroMavens President Stephanie Pomboy is interviewed. She shares why she sees a tough economic environment ahead that will force the central bank to reverse course.
Pence Wealth Management's principals Dryden and Laila Pence offer their best advice in "Buy American Stocks" by Steve Garmhausen. See why investors should stay calm and buy railroads, online retailers and other companies poised to gain from U.S. growth.
Penta article "New Age Social Clubs" discusses how the virtual world has subtly but powerfully changed how we interact in the material world.
"Credit Suisse Should Not Get Another Chance" is an editorial commentary by Thomas G. Donlan that suggests the bank's guilty plea in tax case calls for stiffer penalties.
See also: The Importance Of Vetting Marijuana Companies
Columns
Columns in this weekend's Barron's discuss:
The correlation between share prices and consumer confidence
Transportation vs. biotech and Internet stocks
Companies that Google (NASDAQ: GOOG) may buy next
The return of funds of hedge funds
The perils of managed portfolios
Another look at Abenomics
How dividends cushion small caps
The May survey of forecasters by Blue Chip Economic Indicators
The Tea Party targets a bank
Online Exclusives
Barron's online exclusives this weekend include:
"The Case for U.S. Stocks." In this Best Minds article, Sameer Samana, an international strategist with Wells Fargo Advisors, argues that U.S. markets will regain their dominance over international equities this year. Samana shares why he sees in the U.S. pullback a chance for investors to re-balance, and he offers recommendations, both in developed markets and emerging ones.
Keep up with all the latest breaking news and trading ideas by following us on Twitter.
Posted-In: Abenomics AMC Networks Bank of China Barnes & Noble Barron'sBarron's Pre-Market Outlook Media Best of Benzinga
View Comments and Join the Discussion!