Barron's Recap: Meltdown For 3D Printing?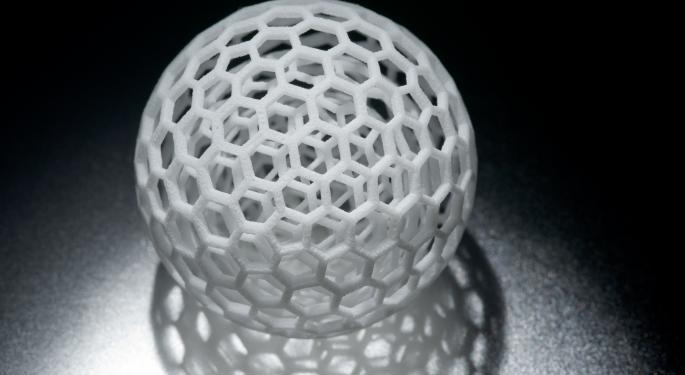 This weekend in Barron's online: the hype about 3D printer stocks, as well as the prospects for MetLife, Daimler, Great Lakes Dredge & Dock, Samsonite and more.
Cover Story
"Beware 3-D Printing" by Alexander Eule.
This new technology may hold great promise to eventually reshape U.S. industry, says this week's cover story in Barron's, but the stocks do not. The industry darling could tumble 80 percent.
Shares of the industry's largest pure-play stock, 3D Systems (NASDAQ: DDD), are up 370 percent over the past two years. It unveiled a dozen new printers at the Consumer Electronics Show. But it has repeatedly missed its own earnings forecasts, while lowering the bar for the future. Investors have made a habit of overlooking bad news from 3D Systems, says the article.
The article offers more on the valuation of 3D Systems and competitors Stratasys and Voxeljet. See whether 3D Systems is a candidate to short. See where the real promise of 3D printing may lie, and the challenges the industry still faces.
The article includes a table comparing the 3D printer stocks, as well as software players and industrial customers. And there is also a sidebar featuring a new kind of chair designed by computer-aided design (CAD) software and built by a 3D printer.
See also: Berkshire Hathaway: Playing Catch-Up With The Market
Feature Stories
"MetLife on Sale" by Andrew Bary points out that shares of MetLife (NYSE: MET), the top U.S. public life insurer, are the cheapest in its industry. See how the company benefits from higher rates, a global franchise and reduced risk.
Jonathan Buck's "Daimler's Race Against Itself" makes the case that this quintessential German car maker, which is outpacing its local rivals, has a chance to exceed bullish forecasts as its long-term investments pay off.
In "Great Lakes Shares Could Come Up From the Depths," David Englander discusses how Great Lakes Dredge & Dock (NASDAQ: GLDD) is benefiting from Superstorm Sandy-related remediation and port-deepening projects that are tied to the expansion of the Panama Canal.
Bargains have become especially hard to find in today's stock market, according to Jack Hough's "Passive-Aggressive Investing." For bigger payouts and more growth, investors can turn to companies with different structures, such as real estate investment trusts and master limited partnerships.
"Make Sure to Pack Some Samsonite Shares" by Assif Shameen reveals how the world's largest luggage maker is benefiting from a rising love of travel and tourism by people in Asia. See why Samsonite stock could go 25 percent higher.
In Amy Feldman's "Made in Japan : How to Play Abenomics," the Matthews Japan mutual fund is profiled. See why the fund's managers are cautiously optimistic, expecting financial companies and smaller firms to lead the island nation out of its long period of stagnation.
Patrick Wolff of Grandmaster Capital is interviewed in "A Chess Master Scans the Market for a Checkmate" by Lawrence C. Strauss. In the article, Wolff discusses strategy, stocks he likes and dislikes and his global outlook.
In "Sweating the Small Stuff" by Dyan Machan, the CEO spotlight is turned on Will Oberton of Fastenal. See how even Warren Buffett was impressed with how Oberton climbed the ranks by sticking with basics and solving problems creatively.
"Proofs of Concept" by John Steele Gordon takes the long view on how big thinkers made big products and big failures that pointed the way forward.
"Finding a Remedy for the Doc Fix" is an editorial commentary by Thomas G. Donlan focuses on how a small part of the Medicare mess illustrates a larger fiscal malaise.
See also: The Rigors Of Doing Nothing Can Stuff Your Wallet
Columns
Columns in this weekend's Barron's discuss:
The fifth anniversary of the bull market
The "fluky" labor report
Whether the Nasdaq is headed for 5,000
The United States and "dollar diplomacy" in Asia
An economic rebound in the spring
The basis for SolarCity's optimistic outlook
New tools for analyzing exchange traded funds
The Blackmagic Pocket Cinema
The habits of fund investors
Keeping an eye on business development companies
The week's dividend hikes
Keep up with all the latest breaking news and trading ideas by following us on Twitter.
Posted-In: 3D Systems Barron's daimler Fastenal great lakes dredge & dock MetLife SamsoniteMedia Best of Benzinga
View Comments and Join the Discussion!