Barron's Recap: The Snail Economy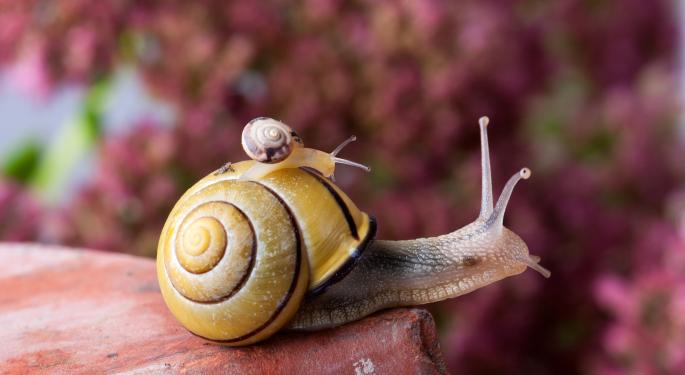 This weekend in Barron's online: the case for a Great Stagnation, as well as the prospects for Kohl's, Furmanite, Walgreen and more.
Cover Story
"Slowing to a Crawl" by Jonathan R. Laing.
The United States may be headed for decades of slow growth, says Barron's in this week's cover story. The political wrangling over federal deficits is meaningless unless Washington confronts the larger threat. That is, the upcoming decline in economic growth, or the Great Stagnation.
In the debate over how much the U.S. government should tax and spend, few politicians and pundits seem aware of that U.S. economic growth is on track to slow dramatically for the next 20 years or so. This could have broad repercussions for not just Washington, but businesses and investors as well.
See how signs of this new reality are already making their way into official forecasts about population growth, particularly the working-age population, and nonfarm labor productivity. See what the trends are in private and public research spending, as well as projections for the growth of gross domestic product.
The article discusses the challenges that the nation could face as a result of prolonged weak growth, including worsening government dysfunction and increased social tensions. "If the pie stops growing enough, the squabbles over who gets what slice will only get worse and spark lots of demagoguery," one expert is quoted as saying.
The long, slow slide in U.S. economic growth is show graphically. So are forecasts for working-age population growth, labor force participation rates and real median income.
See also: How To Ignore The Global Market Noise
Feature Stories
"Coming Back to Kohl's" by Lawrence C. Strauss suggests that shares of Kohl's (NYSE: KSS) could rise by 20 percent as management improves inventory levels and merchandising. The article discusses the retailer's quest for more national brands.
David Englander's "A Refinery Play That Could Gain 30%" features Furmanite (NYSE: FRM). This provider of maintenance and inspection services to chemical and oil companies could see strong growth as its restructuring gains traction.
In "Just What the Pharmacist Ordered," Sandra Ward says that, though Walgreen (NYSE: WAG) shares are already up sharply this year, they could see a further gain of 20 percent or more by fiscal 2016. Its links to a European chain and a giant wholesaler get the credit.
Gregg Winter, co-founder of hedge fund W Financial, is profiled in "Rock-Solid Real Estate" by Eric Uhlfelder. See why Winter has never had a down month in lending to New York real-estate developers.
"Bargain-Hunting Around the World" by Lauren R. Rublin features the latest from Barron's Art of Successful Investing panel. See where the panelists found value in the tech and energy sectors, as well as in Europe and Japan.
In Steve Garmhausen's "The Master Builder," independent financial advisor Greg Thomas shares his best advice. See how the strategy of putting the bulk of clients' money into stocks with growing dividends has paid off for Thomas.
A Penta article features stories about philanthropic efforts that number of wealthy individuals swapped at a New York event organized by the Wealth & Giving Forum. "The Givers' Club" is from Barron's Editor Richard C. Morais.
"The Facts Are Unsettled" is an editorial commentary by Thomas G. Donlan in which he suggests that prosecutors and regulators have made a controversial case against J.P. Morgan Chase (NYSE: JPM).
See also: J.P. Morgan in Legal Trouble Over Bernie Madoff
Columns
Columns in this weekend's Barron's discuss:
Why Alan Greenspan has no regrets
519 trading sessions without a 10 percent correction
Food for the poor as the next fight in Congress
Icahn's demand for Apple (NASDAQ: AAPL) to buy back shares
Doing your homework on the hottest IPO of 2013
The Koubachi Wi-Fi Plant Sensor
The high price of hedge-fund celebrity
New exchange traded funds from Fidelity and J.P. Morgan
Dividend hikes from Visa (NYSE: V) and others
Lessons from the Tax Reform Act of 1986
The reliability of employment numbers
Follow us on Twitter.
View Comments and Join the Discussion!
Posted-In: Alan Greenspan Apple Barron's Carl Icahn Furmanite J.P. Morgan kohl'sMedia Best of Benzinga