Barron's Recap: Return Of The Bulls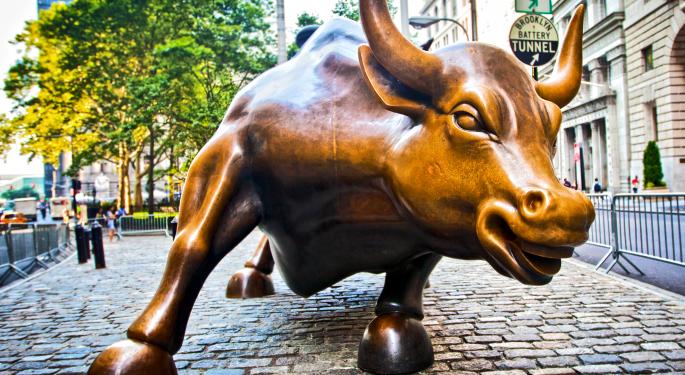 This weekend in Barron's online: the fall Big Money poll results, as well as the prospects for AT&T, Outerwall, Questcor Pharmaceuticals and more.
Cover Story
"Raking In Returns" by Jack Willoughby.
American money managers expect stocks to rise seven percent between now and the middle of next year, says Barron's in this week's cover story. Some 68 percent of respondents to Barron's fall Big Money poll declared themselves bullish or very bullish about the stock market's prospects.
The 16-day government shutdown and the political wrangling over lifting the U.S. debt ceiling were only near-term noise for investors, says one expert quoted in the article. "A few months from now, we'll be looking back at what could well be a good buying opportunity. We like that there are a lot of skeptics out there. It means the stock trade isn't crowded."
See what factors the Big Money managers feel will most likely send U.S. stocks sharply higher in the next six months, as well as what they think are the most likely rally killers. Also see how news about China's economy is likely to figure in, and how they think the U.S. markets will stack up against Europe, Japan and emerging markets.
The article includes a graphic breakdown of the poll results, a look at specific markets and the economy overall, and the respondents' opinions about Federal Reserve policy. The semiannual survey shows the sentiment of some of the largest asset managers in the United States, as well as from smaller firms.
See also: The Key To Long-Term Success In The Stock Market Is ...
Feature Stories
"Dial T for Total Return" by Andrew Bary suggests that AT&T (NYSE: T) is going begging even as the stock market surges. This darling of the bond market, which yields more than five percent, offers a safe dividend and upside.
Jim McTague's "Are We Headed for Déjà Vu All Over Again?" indicates that the current political standoff is likely to continue, perhaps until the debt ceiling is reached again. One possible hope is that pork-barrel spending will bring the two sides together.
In "How to Find Stocks With Hidden Yields," Jack Hough points out that dividends are not the only way companies return cash to shareholders. Companies like Aetna (NYSE: AET) and Raytheon (NYSE: RTN) buy back shares on a regular basis, as well.
Activist investor pressure is likely to push Outerwall (NASDAQ: OUTR) for greater capital returns to shareholders, says "Jana's Arrival Could Spark Gains in Outerwall" by David Englander. Outerwall was formerly known as Coinstar, and includes the Redbox video rental segment.
"Action in Inaction" by Reshma Kapadia features a profile of Rajeev Bhaman, portfolio manager of Oppenheimer Global Fund. He finds stock ideas from a variety of sources, and once he buys a stock, Bhaman is in it for the long haul.
In Jack Willoughby's "The New Science Behind Medical Investing," Kevin Starr of Third Rock Ventures is interviewed. See why big pharma companies increasingly are relying on venture capitalists who generate their own ideas and then build companies around them.
The CEO spotlight is turned on Leslie Moonves of CBS (NYSE: CBS) in Robin Goldwyn Blumenthal's "The Hit Maker." Moonves revolutionized the way broadcasters get paid for content, and he shares why he believes the future of TV is still bright.
In "Too Close for Comfort?" by Bill Alpert, see how Questcor Pharmaceuticals (NASDAQ: QCOR) being both a donor and a beneficiary of a fast-growing medical charity could give investors aches and pains.
"Benign Indifference" is an editorial commentary by Thomas G. Donlan in which he asks, what if we had a government, or a shutdown, and nobody cared?
See also: Top Dividend Paying Stock Picks
Columns
Columns in this weekend's Barron's discuss:
The need for politicians who act like grownups and realistic negotiating
Challenges for the market in 2014
Goldman Sachs (NYSE: GS) as activists' bait
A need for transparency from Amazon.com (NASDAQ: AMZN)
Raising the financial acumen of high-school students
Dangers in taking trailing returns at face value
A new exchange-traded fund that invests in newly public companies
The big dividend hike from Abbott Labs (NYSE: ABT)
The new Kindle Paperwhite
Follow us on Twitter.
Posted-In: Abbott Labs Aetna Amazon.com AT&T Barron's Goldman Sachs KindleMedia Best of Benzinga
View Comments and Join the Discussion!