Barron's Recap (9/29/12): Time to Buy Goldman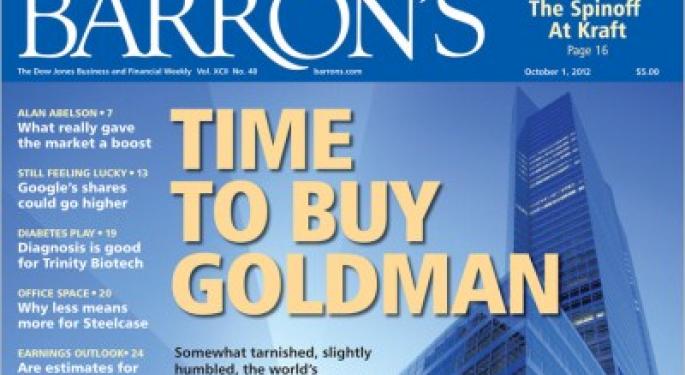 This past weekend in Barron's online: why Goldman Sachs has held up better than its competitors, the prospects for Trinity Biotech, Steelcase and the Kraft Foods spinoff, and what it means to be a leader of philanthropic causes today.
Cover Story
"Built to Win" by Michael Santoli.
In the financial crisis of 2008, Lehman Brothers failed. Morgan Stanley (NYSE: MS) shifted toward wealth management. Citigroup (NYSE: C) staked its future on its international banking franchise. And J.P. Morgan Chase (NYSE: JPM) took on Bear Stearns and Washington Mutual. Only Goldman Sachs (NYSE: GS) came through the crisis intact, the largest pure investment bank and institutional broker in the business. The article looks at how this Wall Street leader stayed on top and why Barron's thinks shares could rally 25 percent in the next year. Goldman has built its capital cushion carefully, while buying back as much stock as is sensible, and continuing its leading role in advising companies on mergers and in helping them to raise capital. Goldman is better capitalized than most large peers, and it looks like it will be prepared to meet the global Basel III capital standards that take effect in 2019. And when most banks slashed their dividends in the crisis, Goldman never did.
Feature Stories
"How to Play the Kraft Spinoff" by Andrew Bary suggests that though shares of slow-growing Kraft Foods (NASDAQ: KFT) will yield a healthy 4.5 percent after the food giant splits this week, the other half of the company, snack maker Mondeléz, is probably a better buy.
In "Sweating Out the Results of a Blood Test," Bill Alpert examines why billionaire investor and entrepreneur Phillip Frost has made a big bet on a small medical company even though some short sellers and scientists are skeptical about its prospects.
David Englander's "A Premier Play on Diabetes Testing" points out that Trinity Biotech (NASDAQ: TRIB) is rolling out new products to diagnose and control diabetes, a growing global scourge. And with sales and profit rising, this Irish company's shares could rise 50 percent.
The modern corporate office must accommodate mobile technology, global operations and health-conscious workers, says "Making the Case for Steelcase" by Sandra Ward. What better time to invest in Steelcase (NYSE: SCS), the world's leading office-furniture maker?
"A Train-Fan Fund Chief Rolls to Winning Results" by J. R. Brandstrader is a profile of David Winters, founder of the Wintergreen Fund, a no-load global value fund. He has soundly beaten his index with a patient, long-term, global approach that includes a stake in Nestlé.
Richard C. Morais's "From 'Loony' to Philanthropic King" focuses on what it means to be a leader of philanthropic causes today, with CEO Lindsay Owen-Jones of L'Oreal, CEO David Fischer of packaging company Greif (NYSE: GEF) and Prince Charles as examples.
In Alexander Eule's "Still Going for the Gold," Morgan Stanley's Kimberley Hatchett, once an Olympic hopeful, shares how she uses alternative investments to help her clients over the market's hurdles. She ranked 44th on Barron's list of Top 100 Women Advisors.
"Why Stocks Still Beat the Alternatives" by Lawrence C. Strauss is an interview with Bill Nygren, co-manager of the Oakmark Fund, who argues that equities are inexpensive and also shares why he likes AIG (NYSE: AIG), Delphi Automotive (NYSE: DLPH) and Devon Energy (NYSE: DVN).
"A New Dog in the Pack" is an editorial commentary by Scott Powell and Jay Richards that examines what Dodd-Frank has unleashed on the financial services Industry.
Columns
Columns in this weekend's Barron's discuss:
The markets and the approach of the fiscal cliff
The significance of transports trailing the industrials
Research In Motion's (NASDAQ: RIMM) earnings results
Knowing when to sell a hot stock
Bond-index ETFs that avoid the "ETF bid"
The role of Fannie Mae and Freddie Mac in the mortgage mess
Finding opportunities in India
Online Exclusives
This weekend's Barron's online exclusives include:
"More Evidence That Chip Earnings at Risk" by MKM Partners. With Infineon Technologies' negative commentary as support, MKM remains cautious on the semiconductor sector as a whole heading into earnings. The most risk lies in broadly exposed names such as Texas Instruments (NASDAQ: TXN), Analog Devices (NASDAQ: ADI), Linear Technology (NASDAQ: LLTC), Altera (NASDAQ: ALTR) and Xilinx (NASDAQ: XLNX). Qualcomm (NASDAQ: QCOM) and Broadcom (NASDAQ: BRCM) seem to have the best exposure.
View Comments and Join the Discussion!
Posted-In: AIG altera analog devices Barron's BEAR STEARNS broadcom CitigroupMedia Best of Benzinga