Barron's Recap (9/15/12): Top 40 Wealth Managers for the Super Rich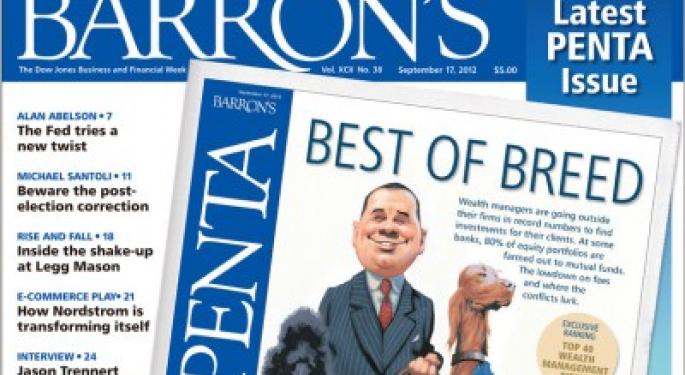 This weekend in Barron's online: the annual ranking of the top 40 wealth managers, and the prospects for Nordstrom, Iron Mountain, Compass Minerals and Kratos Defense & Security Solutions.
Cover Story
"Best of Breed" by Karen Hube.
Barron's ranking of the top 40 wealth managers for the superwealthy reveals that the private banks have finally embraced so-called open architecture. With a sharp increase in demand by sophisticated investors for niche global investments, coupled with their insistence that they have best-in-class managers, the big wealth-management outfits have reluctantly been moving toward offering a wide range of investment products run by outside managers. Northern Trust (NYSE: NTRS) and Wells Fargo (NYSE: WFC) began building open-architecture platforms a decade or more ago, but others such as Barclays (NYSE: BCS), SunTrust (NYSE: STI) and UBS (NYSE: UBS) have included more outside managers in the past few years. The wealth management arms of Bank of America (NYSE: BAC), Morgan Stanley (NYSE: MS) and J.P. Morgan (NYSE: JPM) topped the list for the third straight year, but smaller firms are growing at a much faster rate. Companies in the top half of the rankings grew by 8.8 percent, while those in the bottom half saw a 28.3 percent surge.
Feature Stories
"The Retailers' Retailer" by Alexander Eule suggests that shares of Nordstrom (NYSE: JWN) could climb as much as 30 percent in the next two years, as the Seattle-based upscale retailer sees the payoff of investing heavily to integrate e-commerce with its customer-friendly stores.
In "Escape from Iron Mountain," Bill Alpert asks, since activist investors pushed document-storage company Iron Mountain (NYSE: IRM) to become a real-estate investment trust, then sold their shares before it converted, should other investors do the same?
Lawrence C. Strauss's "Long-Term Bull, Short-Term Bear" offers an interview with Jason DeSena Trennert, managing partner of Strategas Research Partners in New York, who shares his reasons for optimism over time, but with plenty of factors to worry about right now.
"FMI's New International Fund: Stick with What Works" by Sarah Max is a profile of Pat English, CEO and chief investment strategist of Fiduciary Management. The firm's investment strategy is very contrarian in nature, or "We're in the rejection business," as English puts it.
Sales of rock salt suffered in last year's warm winter, says "Let It Snow, Let It Snow!" by Jacqueline Doherty. That hurt the earnings of Compass Minerals (NYSE: CMP). However, this year could see more storms—and a higher share price for the Overland Park, Kansas-based company.
In Alexander Eule's "The Country Doctor Is In," Ted Cronin of Manchester Capital Management opines that dividend stocks are overpriced and he has little interest in the latest social-media stock, demonstrating his firm's independent spirit and contrarian investment strategies.
David Englander's "On the DoD's Shopping List" takes a look at Kratos Defense & Security Solutions (NASDAQ: KTOS), which has built a strategic portfolio of products that the Pentagon will keep buying, even with a much tighter budget. Shares could more than double.
"Light a Candle, or Save a Box" is an editorial commentary by Thomas G. Donlan that asks whether the Fed is saving the country or ruining it.
Columns
Columns in this weekend's Barron's discuss:
Reactions to the QE3 announcement
Prospects for Apple (NASDAQ: AAPL) and the iPhone 5
Understanding the so-called fiscal cliff
The Espresso Book Machine
Solving the problem of financial illiteracy
What is sapping the vigor of small businesses
The dividend hike at Philip Morris (NYSE: PM)
Weibo and China's future
Online Exclusives
This weekend's Barron's online exclusives include:
"Western Digital Can Head North" by Teresa Rivas. Western Digital (NASDAQ: WDC) shares fell Friday afternoon, after the world's largest hard-disk-drive maker lowered guidance for its fiscal first-quarter. However, it also initiated a quarterly dividend of $0.25 per share and boosted its share buyback authorization by $1.5 billion. Its shareholder friendly policies and its still strong outlook for 2013 should propel shares higher.
"Whopping $562 Million Sale at Warner Chilcott" by Grace L. Williams. Two 10 percent owners and executives, including the chief financial officer, at drug maker Warner Chilcott (NASDAQ: WCRX) sold a total of $561,529,443 in stock on September 11 in the wake of a special dividend, a secondary offering and a multiyear low stock price. They were joined by big institutional holders, which slashed their stakes by more than half.
Posted-In: Apple Bank of America Barclays Barron's Compass Minerals Espresso Book MachineBarron's Media Best of Benzinga
View Comments and Join the Discussion!