The 14 Best Financial Radio Shows Of 2015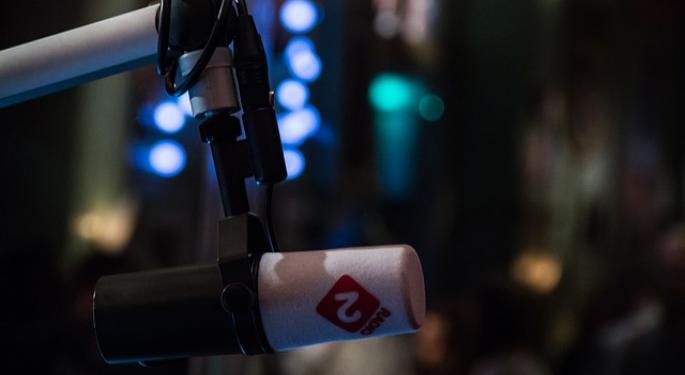 Before there was TV, before laptops and smartphones, we had radio. Americans relied on the airwaves for both their entertainment and their news.
Today, radio is anything but antiquated. Podcasts have made popular radio shows even more accessible, allowing fans to listen at the gym, in their cars — anywhere and any time they please, really. They've also become a way to connect someone with a particular story to tell with the unique audience who wants to hear it. If anything, radio is one of the most popular mediums for consuming information — especially personal finance.
That's why, at GOBankingRates, we're asking our readers to tell us which financial radio show or podcast is their favorite in our first annual Money on the Air competition. We investigated more than 50 shows that cover business and finance, evaluating them based on the strength of their following, quality of production and unique voice. We managed to narrow it down to to 14 finalists, but we're relying on you to choose the winner.
Voting begins March 1 and ends on March 31, 2015 at midnight (PST). Cast your vote daily for your favorite radio show or podcast and come back in April to find out who won.
Learn More About Money on the Air 2015 Finalists
BiggerPockets
The "BiggerPockets Podcast" is officially the No. 1 top-rated and -reviewed real estate podcast on iTunes. The podcast cuts out the hype, delivering real advice from active real estate investors and other professionals in the industry. Hosted by Josh Dorkin and Brandon Turner, the show brings you incredible interviews and tips each week to help you grow your business.
Whether you are a complete newbie, a flipper looking to improve your skills, a wholesaler looking for insight, or a buy and hold landlord looking to improve, the "BiggerPockets Podcast" will help you achieve your goals and get bigger pockets!
The Clark Howard Show
"The Clark Howard Show" is an informative and entertaining show dedicated to all aspects of personal finance. Howard shows you ways to save more, spend less and avoid ripoffs.
The Dave Ramsey Show
Hosted by New York Times best-selling author Dave Ramsey, the live radio talk show focuses on life and how it happens to revolve around money. Listeners from across the country call daily to ask Ramsey about how to start a small business, stop fighting with their spouse, teach their kids about money, save for retirement, get out of debt and other life issues they're struggling with and wondering "What would Dave do in my situation?" The radio show offers hope to listeners who feel lost in their current financial situation. People regularly call in to tell Ramsey how much debt they have paid off and scream that they are now debt free!
"The Dave Ramsey Show" is available on more than 550 radio stations across the country with more than 8.5 million listeners weekly. The show is available through a 24-hour streaming online video channel at DaveRamsey.com/Show or "The Dave Ramsey Show" App. It has a 24-hour audio stream via The Dave Ramsey Channel on iHeartRadio, and all three hours of the show are now broadcasted daily via Podcast, which currently boasts an audience of more than 125,000 daily downloads.
The Disciplined Investor
If you are interested in your financial security, making money and having a great life, you have come to the right place!
"The Disciplined Investor" blog and podcasts give investment advice for investors of all levels, and they'll help you take control of your financial situation. Whether you are a novice or a seasoned investor looking to broaden your horizons and keep up with the ever-changing markets, this blog and podcast will give you tips always leading you to smart and lucrative investments.
The Emma Johnson Show
You're told we can have it all, but we're still trying to figure it all out.
Built on the popular blog WealthySingleMommy.com, Emma digs into the paradoxes of women, work, family, relationships, sex, parenting, career and money. You know: Everything you're talking about (and some stuff you wish you were).
Entrepreneur On Fire
"Entrepreneur On Fire" is a podcast created for you, the entrepreneur, side-preneur, solo-preneur or small business owner. If you are looking for inspiration, motivation and actionable advice during your daily commute, workout or "me" time, John Lee Dumas delivers seven days a week.
Each episode brings you a successful entrepreneur who shares their journey: their failures, "aha!" moments, successes and much more. Each episode ends with the lightning round, where Dumas extracts priceless resources and action steps for you, Fire Nation!
Epic Real Estate Investing
"Epic Real Estate Investing" is a "financial freedom show" disguised as a "real estate investing show" where the intent is not to make piles of money, but rather to create streams of money. Contrary to popular belief, nobody has a money problem — merely an idea problem. New ideas are found here daily.
Freakonomics
In their books "Freakonomics," "SuperFreakonomics" and "Think Like a Freak," Steven D. Levitt and Stephen J. Dubner explore "the hidden side of everything," telling stories about cheating schoolteachers and eating champions while teaching us all to think a bit more creatively, rationally and productively. The "Freakonomics" podcast, hosted by Dubner, carries on that tradition with weekly episodes. Prepare to be enlightened, engaged, perhaps enraged and definitely surprised.
The Money Girl
"The Money Girl" podcast provides short and friendly personal finance, real estate and investing tips to help you live a richer life. Whether you are just starting out or are already a savvy investor. Money Girl's advice will point you in the right direction.
Since joining the QDT Network in 2008, host Laura Adams has produced over 300 Money Girl episodes. Adams draws inspiration from current events, social media, listener questions and everyday conversations with friends. "The Money Girl" delivers actionable advice and tips that fans can put into practice immediately.
Motley Fool Money
"Motley Fool Money" airs every week on radio stations across America, including top-10 markets Los Angeles, San Francisco, Atlanta, Boston and Washington, D.C. Its companion podcast is consistently ranked as one of the top business and investing shows on iTunes. The show features a team of Motley Fool analysts discussing the week's top business and investing stories, interviews and an inside look at the stocks on our radar.
Rich Dad Radio Show
Beat conventional advice on personal finance, investing and business with the author of "Rich Dad Poor Dad," Robert Kiyosaki. Get ahead with his pull-no-punches style of challenging the advice we've all been given on money, investing and the economy. Frustrated and frightened by the financial advice being given by the mainstream talking heads, Kiyosaki sits down with professionals from the world of money, investing, business and personal development. Listeners will be provided various viewpoints on how to set themselves up for financial success. If you're looking for get-rich-quick tips and tricks to investing, move on. Listeners dedicated to the craft of finance and a better life, subscribe! New podcasts released weekly.
Smart Passive Income
The "Smart Passive Income" podcast has been featured in The New York Times and is one of the leading business podcasts in the world. Host Pat Flynn, who considers himself the "crash test dummy of online business," reveals all of his online business and blogging strategies, income sources, and killer marketing tips and tricks so you can be ahead of the curve with your online business or blog.
Flynn also interviews industry leaders, as well as the less-famous (but still awesome) successful online business owner, so you can discover how you can create multiple passive income streams that work for you, so that you can have the time and freedom to do what you love — whether it's traveling the world or just living comfortably at home. Flynn has been supporting his family 100 percent with passive income generated online, easily earning a six-figure salary while working only a few hours a week. You'll hear about success, failure, and everything in between so that you can confidently take your business to the next level.
So Money
Host Farnoosh Torabi is an award-winning financial strategist, TV host and best-selling author. "So Money" brings inspiring money strategies and stories straight from today's top business minds, authors and influencers. What was their financial journey and how do they master their money today?
Hear from Tony Robbins, Robert Kiyosaki, Danielle LaPorte, Seth Godin, David Bach and many other inspiring individuals. Learn about their financial philosophies, wins, failures and habits. Plus, their secret guilty pleasures. On weekends, tune in as Torabi answers your biggest questions about money, career, guests, you name it. Submit your question for Torabi at www.SoMoneyPodcast.com.
The Truth About Money with Ric Edelman
"The Truth About Money with Ric Edelman" has been on the air for 23 years and is heard throughout the country in 69 radio markets. With more than 1 million listeners every week, Ric gives comprehensive, educational advice that is both entertaining and useful. Last year, Edelman was named among the "Heavy Hundred" in the radio industry by TALKERS magazine.
Image credit: Public Domain
The preceding article is from one of our external contributors. It does not represent the opinion of Benzinga and has not been edited.
View Comments and Join the Discussion!
Posted-In: BiggerPockets Clark Howard Show Dave Ramsey Disciplined Investor Emma Johnson Entrepreneur On FireMedia Personal Finance Best of Benzinga