From 'Flintstones' To 'Rainbow Rangers': Genius Brands CEO On The Economics Of A Cartoon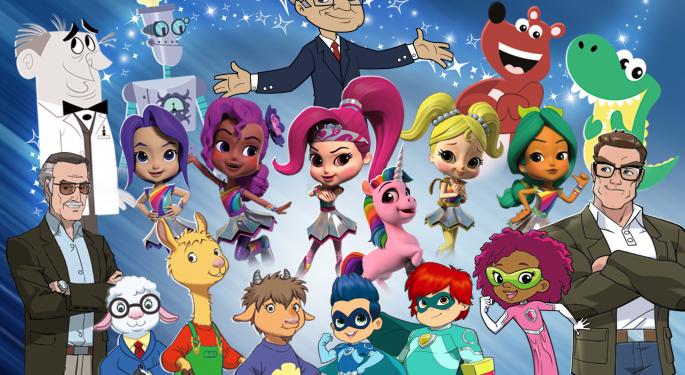 Andy Heyward, chairman and CEO of Genius Brands International Inc (NASDAQ: GNUS) joined Benzinga's PreMarket Prep on Wednesday. Heyward discussed the economics of a successful cartoon show, his emphasis on positive role models and racial sensitivity and how cartoon formats are changing in today's fast-paced world.
Heyward has been developing and writing cartoons since the late 1970s, contributing to projects such as "Scooby-Doo," "Flintstones," "Jetsons," "Smurfs,"and "Yogi Bear." Heyward co-created "Inspector Gadget" in 1982 and has also worked on shows such as "Alvin and the Chipmunks," "G.I. Joe," "Hello Kitty," "Sonic the Hedgehog" and many more.
Today, Genius leading brands include shows such as "Stan Lee Comics," "Baby Genius," "Warren Buffett's Secret Millionaires Club," "Thomas Edison's Secret Lab," and "SpacePop."
Exclusive: Genius Brands CEO Sees Profitability 'By The End Of The Year'
Evolving Formats
Heyward said today's on-demand environment puts more power in the hands of the content creators. One way Genius is able to take advantage of that power is by making sure its episodes and merchandising efforts sync up so as to maximize potential marketing returns.
Genius is also experimenting with adjusting the classic 30-minute run time for shows to meet today's fast-paced world.
"Thirty minutes is the standard format for a program. However, we oftentimes now will do two or three or sometimes more shows inside the 30 minutes," Heyward said.
For a standard 30-minute program on the channel, he said viewers can expect 5.5 minutes of commercials on the weekends and 6 minutes on weekdays. After subtracting out the commercial time and the opening and closing credits, the standard show has 22 minutes of content, and Genius has been splitting that 22 minutes into two 11-minute episodes for certain shows and even shorter segments for other shows.
Racial Issues
Heyward even addressed the prominence of racial issues in society today and the impact it may have on the body of cartoon content from previous decades.
"Those are issues that I've always been thoughtful and tried to be thoughtful and sensitive to. For example, the only animated program ever produced on the life of Dr. Martin Luther King I did," Heyward said.
He worked with Dr. King's family to produce the show, and King's son Dexter voiced his father's character.
"I've always had cartoons that I thought were very sensitive to the times and thoughtful and had positive role models," Heyward said.
He also teased "a major African American star" will be featured in one of Genius' upcoming cartoons.
Cartoon Economics
Heyward said it typically takes four or five years to create a cartoon show and bring it all the way to market, and several of the company's shows are now coming to market after years of development and investment. He is particularly optimistic about "Rainbow Rangers" and all of the consumer products associated with the brand.
"One of the beautiful things about the children's entertainment business is that we have a dual income stream. It's not just the content, it's the consumer products that come from the content," Heyward said.
"If you have something that works, chances are it's going to live a long, long time and be a pumping oil well for you."
View Comments and Join the Discussion!
Posted-In: Andy HeywardPenny Stocks Top Stories Exclusives Interview Best of Benzinga