Alibaba Group Holding Ltd Options Open For Trade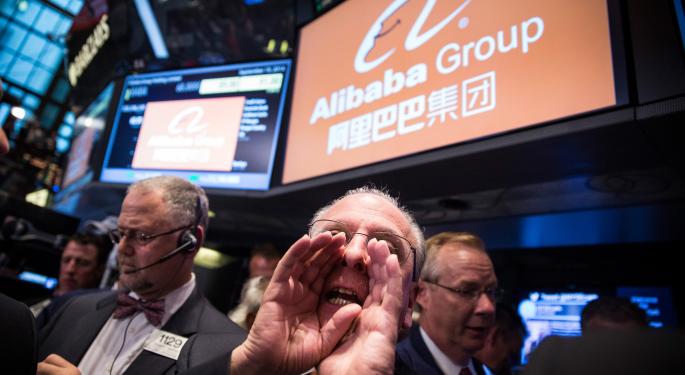 On Monday, Alibaba Group Holding Ltd (NYSE: BABA) options opened for trading.
Alibaba options opened with eight different expiration cycles ranging from October 2014 to January 2017.
Within the expiration cycles, the at-the-money options are trading with $2.50-wide strikes, whereas further out-of-the-money strikes are $5.00-wide. Consequently, option spreads will be $2.50-wide at minimum.
The larger width in strikes can be a disadvantage for individuals with smaller account sizes, as $250 is the minimum capital required to place a spread. That's especially true compared to other products such as the SPDR S&P 500 ETF Trust (NYSE: SPY), Facebook, Twitter and Microsoft, which offer $1.00- and $0.50-wide strike selections.
Most importantly, liquidity in Alibaba options appears to be sufficient; halfway through the trading session there are thousands of contracts traded on the at-the-money options.
Related Link: Options Action Traders Share Their Amazon Trade
The Bid/Ask Spread
On the other hand, the bid/ask spread in Alibaba options is slightly wide, ranging from $0.05 to $0.30. It should also be noted that the bid/ask spread in Alibaba will be no less than $0.05 for the following nine months, as it will not qualify for the penny increment options program until then.
Investors must also consider the width in bid/ask spread when trading Alibaba options. Given that Alibaba has $0.05-wide spreads, investors will be giving up considerably more money to market makers compared to trading a product with $0.01-wide spreads.
October Options
October options opened trading with roughly 45 percent implied volatility. Since the open, volatility has already contracted 3 percent, suggesting a $4 move in the next 18 days.
Many option traders found the opening option volatility in Alibaba is low and predicted it to open closer to 70 percent. As a result, market makers in the name are suggesting there is less expected price movement than previously anticipated.
In comparison, when Facebook initially listed options, implied volatility was priced at 67 percent. Twitter's initial volatility was priced at 55 percent, offering premium sellers a larger break-even window.
Currently, shares of Alibaba are trading at $88.80 -- down 1.8 percent on the day -- with more than 59,000 option contracts traded on 17 million shares.
Disclosure: At the time of this writing, the author had no position in the equities mentioned in this report.
Posted-In: Alibaba IPO Alibaba OptionsOptions Markets Best of Benzinga
View Comments and Join the Discussion!